Home > Movies > Southern Spice

Kamal's Vettayadu Vilayadu is finally ready

August 17, 2006 19:35 IST


| | |
| --- | --- |
| Kamal Haasan | |
| | |
| | |
| | |
| | |
| | |
| | |
Gowtham Menon's Vettayadu Vilayadu starring Kamal Haasan in a cop's role was the hottest film of 2006 but unfortunately, the film got caught in a legal tangle. People believed that it would never see the light of day.
Finally, it is good news for all those who have put in so much effort in the film.
The current producer of the film, 'Seventh Channel' Narayanan, will finally be able to release it. His office informed rediff.com that Vettayadu Vilayadu will face the censors this week, and it will release by the end of this month.
The film's music by Harris Jayaraj is already a huge hit.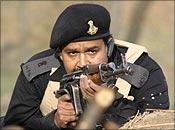 Mohanlal is unbeatable
The year 2006 has been an extraordinary year for Mohanlal. All three of his releases -- Thanmatra, Rasathantram and Vadakkumnathan -- have been huge successes.
They have also been been artfully made, and appreciated. 
His latest release Keerthichakra, directed by Major Ravi, where he plays Major Mahadevan fighting terrorists in Kashmir, is turning out to be the biggest hit of 2006 in Malayalam.
In most of the theatres including the one in Thiruvananthapuram, police had to resort to lathi charge because of the large crowds surging to get into the theatre. The story may be set in Kashmir but its fiery dialogues, voiced by Mohanlal, are being applauded by the audience in all the theatres.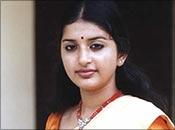 Meera Jasmine in Kannada
National Award winning actress Meera Jasmine is all set to return to the Kannada film industry. She will star with Puneet Raj Kumar in Arasu. It will be directed by Mahesh Babu, who had earlier directed Puneet's silver jubilee hit Akash.
Meera had earlier acted with Puneet in Mourya, directed by S Narayan, which was also a winner at the box office.
Arasu is being produced by Puneet's brother Raghavendra Raj Kumar and it will also feature Ramya in an important role. Joshua Sridhar, who has become a rage after the highly successful Tamil film Kaadhal, is the music director of this film. It will start rolling on September 4, though it had its pooja much before Dr Raj Kumar's death.
Puneet Raj Kumar's previous film Aajay did not set the box office on fire, and now his fans are hoping that Arasu will recreate the magic of his previous films like Akash and Appu.
Telling a different story
The times seem to encourage experimental cinema.
Bhushan Kalyan is one of those who believe they have the space now to tell another kind of story. It's not surprising he's treading a different path as he has assisted Shyam Benegal in Hari Bhari and Mahesh Mathai in Bhopal Express, besides making a few ad and corporate films.
"The audience has grown and they have become savvy," says Bhushan.
Bhushan's debut Telugu film is titled Kalakaanidhi and is produced by Ravi and Mahesh Kumar under the banner of Swan Creations. Raghuvaran, Malayalam actor Prithviraj (who is making his debut in Telugu films) and Anjala Zhaveri (who returns to Telugu cinema after a hiatus) star in this film. According to Bhushan, the film has suspense and drama.
"It is a universal film in Telugu. My film is a mix-n-match of various influences," adds Bhushan, who considers filmmaker Krzysztof Kieslowski as his great guru and Benegal as a genius. Mani Sarma is said to compose the music. He plans to complete Kalakaanidhi by October-November.
Incidentally, Bhushan's wife Priya V was Mani Ratnam's assistant and made a highly successful first film Kanda Naal Mudhal.  
Inputs from R V Vijayasarathy, Radhika Rajamani and Shobha Warrier