| | |
| --- | --- |
| Abhay Deol and Soha Ali Khan in Ahista Ahista | |
| | |
| | |
| | |
| | |
| | |
| | |
Advertisement
August 17, 2006 16:07 IST


Abhay Deol cannot stop praising Soha Ali Khan [Images]. "She's witty. She's humorous. Mentally speaking, she's a female version of me," he says.

If you think all this is just part of some well-orchestrated publicity for their new film, Ahista Ahista [Images], Deol begs you to think again.

"She once asked me if I was easily offended. I said no and asked her the same thing. She said no too. It was such a relief," he sighs. "With my humour, I end up offending everybody!"

You can't help but like the good-natured Abhay and the manner in which he seems rather content with life.

Much like Ankush, the leading man in Abhay's second film, Ahista Ahista.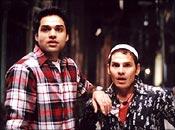 Abhay insists on making the introductions. "Ankush comes from a lower middle class family in Delhi," he says. "He is simple, hardworking and content with life."
Ankush makes money playing witness for couples who want to get married in court; he charges them Rs 200 for one signature. One day, he meets Megha (played by Soha), who has also come there to get married. But her prospective husband (Shayan Munshi) never turns up. Ankush helps her out.
Despite over a decade of experience in television, debutant director Shivam Nair is taking his first feature film very seriously, says Abhay. He even organised a two-week training camp for his actors before the film started.
"Soha and Shayan did their workshop together, while the people who act as my friends and I were in another group. Shivam did not want Soha and me to get too familiar since we begin the film as strangers."
At the same time, says Abhay, the actors were encouraged to improvise. In fact, they even learnt their dialogues only on the day of the shoot.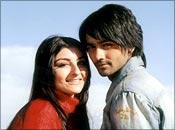 Ahista Ahista has no dance sequences. Most of the songs like Ishq ne, Tum [Images] jo mile and the qawwali run in the background. But then, as always, marketing a film brings its own demands.

"I love you unconditionally is a promo song that was shot later to add glamour to the film. I found the setting weird. Suddenly, Soha and I are on the beach, wearing a matching sari and shirt for the song," says Abhay ruefully. "But the other songs are true to the film and its look."

It's not just Soha, though, whom Abhay talks about. He also grew rather fond of his other co-actor Shayan, who's lately been in the news for his role in the Jessica Lal [Images] murder case. "He's a really nice guy. I have known his wife, (veejay) Peeya Rai Choudhary (seen in Bride And Prejudice [Images]), from our school days. Shayan is very honest to the profession and wants to do meaningful films."

Another friend is Imitiaz Ali, director of his debut film, Socha Na Tha. Though this Sunny Deol home production -- Abhay and Sunny are cousins -- did not do well at the box office, Abhay was recognised as a talented newcomer.

No wonder then, when Ali scripted his next film, Ahista Ahista, he had only one hero in mind -- Abhay.

They share another similar interest -- writing. "I have written short stories; each of them is between four and 20 pages. I am always bouncing ideas off to my friends, who work behind the scenes. Nothing has come off them as yet but there is one idea that may see the light of the day," says Abhay

After Ahista Ahista, Abhay will be seen in Ek Chaalis Ki Last Local opposite Neha Dhupia [Images], Honeymoon Travels Private Limited opposite Minnisha Lamba and in Vinod Mitra's English film, Meridian with Soha again.

"We were good friends earlier," Abhay says of Soha. "During the making of Ahista Ahista, we have become even more comfortable with each other. We experimented with our acting. We encouraged each other to bring in more creativity. It was an awesome experience. You will definitely see more films starring us in future."