| | |
| --- | --- |
| Mammootty | |
| | |
| | |
| | |
| | |
| | |
| | |
Advertisement
August 16, 2006 17:22 IST
Last Updated: August 16, 2006 15:04 IST


It was a very reluctant Mammootty who spoke to rediff.com from a location in Kerala [Images] where he was shooting for a film. His book, titled Kaazhchappadu (roughly translated as Perspective), has recently been released, but he refused to speak about it saying, "I don't like to talk about it to promote its sales.' 

But then, he consented to speak about it for a few minutes. Excerpts from a conversation with the Malayalam superstar:

Your book is a compilation of some of your essays. Why did you decide to publish them in this form?

I had a column every Friday in Malayalam Manorama, based on my experiences, what I saw, people I met and incidents I was part of. It was about my attitude, how I reacted to certain situations. I also analysed right and wrong, and my philosophy behind every action.

I will narrate an incident that happened long ago, about which I had written. Once, I was driving at night when I was stopped by an old man and his pregnant daughter. He was looking for a vehicle to take her to a hospital. She was experiencing labour pains. I dropped them at the nearest hospital and, after they got down, the father gave me two rupees.

Didn't he recognise you? Was it before you became famous?

He didn't recognise me, but it happened after I had become a star. It was in the early days of my career but I was well known.

You can call my columns an attempt at self analysis. To him, I was not the star Mammootty, but a man who helped him when he was in a crisis. That is why he gave whatever he could afford at the time. I gave him back the money and asked him to keep it. In fact, he looked at my face and still didn't recognise me.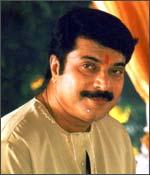 Did you feel bad that he didn't recognise you?
I never wanted him to recognise me, so it didn't affect my ego. Many such incidents have happened in my life, and I had written about them in my columns. Once I began writing, one incident after another started coming back to me. I am of the opinion that only if you write about real incidents and what affects you, will there be sincerity in your writing.
Could you narrate any other memorable incident?
If you want to know more, go through the book.
Would you have written anything if Manorama hadn't asked you to?
I have always wanted to be a writer, and had been writing even when I was a student. I hadn't published anything though. So, when Manorama made me a columnist, I got a chance to be a writer.
Have you always been authentic while narrating the incidents, or did you fictionalise them a little?
There was no fictionalising at all. Although I would add something in the beginning and end to make the story interesting, I was 100 per cent honest while narrating the incidents. 
What was the response from readers like?
It was overwhelming. Many asked me to publish them in a book format.
Was it because you hold M T Vasudevan Nair (Jnan Peeth-winning writer in Malayalam) in high esteem that he was invited to release the book? I remember it was MT who also gave you your first break in cinema.
The decision was taken by the publishers, Current Books. I have nothing to do with it. I didn't even want the book release to be such a big function, but the publishers made it that way.
What was your feeling when you saw your essays in book format?
I don't even think about it. Only when you ask me, the thought comes to my mind.
How do you rate yourself as a writer?
How can I rate myself as a writer? How can I rate myself as an actor? It is for you to rate me. Next time, I may be able to say I have done a better job. After all, this is my first book.