Many viewers found the first half of Karan Johar's [
Images
]
Kabhi Alvida Naa Kehna
more entertaining; many also thought that the film was a bit over the top in the second half. And some, especially the older moviegoers, thought the climax was not true to Indian tradition.
But an overwhelming chunk of moviegoers, who propelled
KANK [Images]
to be the highest grossing Hindi film ever in
North America
 in its opening weekend with an awesome $1.35 million gross, may have agreed with
The New York Times
review.
While the review called the film's story silly and the script over-plotted, it still proclaimed KANK was 'surprisingly watchable'.
The Times
wrote the film, which also broke records in the
United Kingdom
and has reportedly grossed a jaw-dropping $3.5 million in the overseas markets in just three days, made compelling viewing mainly because of its performances. It also praised Johar for his deft handling of the lighter moments, while deploring the way the non-
desi

 
New Yorkers were portrayed in his film.
BBC.com,
which gave the film three stars out of maximum five, declared: '
As to be expected, there are plenty of tears but sadly few genuine emotions in this melodrama that is taboo by Bollywood standards, but tame by any real measure'.
Though many fans thought Abhishek Bachchan [
Images
] was the real scene-stealer, there is no denying that Shah Rukh Khan's [
Images
] immense popularity abroad, which turned the domestic flop
Paheli
into a hit overseas, gave
KANK
a very big boost.
The film's weekend record in Britain is even more impressive, considering that it is playing there in 60 theatres, four theatres less than in
North America
. While
KANK
, which has the highest weekend gross in North America after Johar's
Kabhi Khushi Kabhie Gham
($1 million in 2001), was at number 17 on the box-office list there, it was number six in Britain with a $1.4 million gross. And it fetched 30 per cent more than
K3G.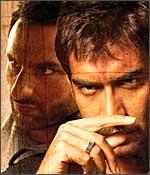 Next week will be crucial for the film. If it does not plunge by more than 40 percent, it might succeed in beating the $6.7 million
K3G
grossed in North America and Britain. In
North America
, though, it will write the records if it beats Deepa Mehta's
Water
, the highest grossing Hindi film which is ending its run with a $5.3 million gross.
But unlike
K3G
and
KANK
, the controversial
Water
has seen most of its business in mainstream theatres across the continent.
While
KANK
is hogging all the limelight, let us not forget the resilient
Omkara
, which stole $170,000 in North America, almost reaching $1 million while across the Atlantic, it has grossed an impressive $500,000 in three weeks. The riveting performance by
Saif Ali Khan [
Images
], who has built a solid fan base overseas in the past three years, is one reason why
Omkara [Images]
is having a
profitable run abroad
. Its steady overseas box-office performance has surprised the box-office pundits in
India
Despite the success of
Omkara
and
Fanaa
and the jaw-dropping collections of
KANK,
there was little to cheer the distributors of other Hindi films abroad.
Anthony Kaun Hai
was a dismal flop, and so was the long delayed Salman Khan [
Images
] movie
Shaadi Karke Phas Gaya Yaar.