Home > Movies > Reviews

Aap Ki Khatir: Another Himesh clone

Sukanya Verma | August 10, 2006 14:50 IST



The attack of the clones continues. Week after week and film after film, Himesh Reshammiya creates replicas of the same three tunes he knows.

Wonder of wonders, he succeeds in hitting the charts each time.

He scores in similar fashion for Dharmesh Darshan's Aap Ki Khatir featuring Akshaye Khanna, Priyanka Chopra, Amisha Patel, Dino Morea and Suniel Shetty. 

Swamped with no less than twelve tracks, Aap Ki Khatir is quite a lengthy soundtrack. And thanks to Sameer's one-dimensional I-cannot-live-without-you brand of lyrics, an unimaginative one as well. 

The title song is a flaky extension of Humko deewana kar gaye (Humko Deewana Kar Gaye), Aap ki khatir is hard core Reshammiya in content. Despite knowing exactly where the tune and Reshammiya are going, the constantly repeated track -- a spirited remix and laidback unplugged version -- locks in your memory. 

The desi zingy pop number I love you offers a combination of K K's piercing pitch and Alisha Chinai's saccharine notes. Neat vocal performances and catchy rhythm make I love you a pleasant surprise. Fortunately, Akbar Sami's remix isn't in his usually overpowering style.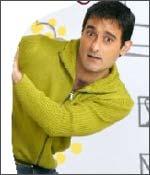 Blandness takes over bhangra in the humdrum ditty Meethi meethi batan. Sunidhi Chauhan has chanted along these lines enough times to go wrong. Kailash Kher and Jaspinder Narula are relegated to playing her glorified sidekicks. If you'd like a refill of the same, there is always Sami's racy remix to count on.

Reshammiya sings Afsana in a Rajasthani folksy tune. The arrangement is bouncy and dynamic but the singer-composer renders it like a wrestling match commentary.
Himani goes to great lengths to discuss her affections for Mr Right in Tu hi mera. Her energy is impressive but the arrangement is jolting and over the top. The original and remix bear such striking resemblance to each other, it's hard to tell who is who.

Shaan gets into the Reshammiya mould with better results; along with Sunidhi Chauhan in Keh do na. A dulcet melody, Keh do na quietly plays in the backdrop.

There is a Sixties flavour in the flute-dominated Tu hai kamaal. Kunal Ganjawala does a swell job in evoking mischief and melody of the era.

Considering all the songs sound and speak the same, Aap Ki Khatir is clearly not high on novelty.
Rediff Rating:

Want to see this movie? Check out Rediff Movie Tickets!