Advertisement
August 04, 2006 14:08 IST


Let me start with what I thought when I first saw the trailer to Darwaaza Band Rakho. What they had was a plot with much scope: A comedy of errors about clueless kidnappers and a riotous drove of hostages.

My mind exploded with the possibilities. I told my friends with much sage nodding of my head that this was one movie to watch out for.

It was really disappointing to see very few of those possibilities explored. It looks like they made the film in one go, and didn't once turn back to probably look things over.

Watching it, I couldn't help but feel that the makers lost interest in the movie halfway into it.

Either that, or it was a bad movie to begin with, and sprinkled with the good bits after they were done with it. I don't wish to sound rude but the good bits seem fleeting while the corny bits are visible painfully throughout.

Darwaaza Band Rakho has four desperate losers -- incidentally, why does Bollywood feel any comedy is incomplete without them? Ajay (Aftab Shivdasani [Images]), Raghu (Chunky Pandey [Images]), Abbas (Zakir Hussain) and Goga (Snehal) kidnapping a certain rich man Taneja's daughter (Isha Sharvani [Images]) for ransom. They take over the bankrupt Shah household as their hideout, and thus starts the mayhem -- or so they tell us.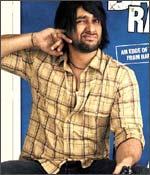 As the days pass, and their ransom demands are stalled to beyond their patience, the house gets its fair share of visitors. The pizza guy, the moneylender, the maid's husband (a cop), so on and so forth. They all have to stay back because the kidnappers are too dumb to keep themselves hidden.
There is a trick to appearing really dumb. It requires one to be very smart. Otherwise, making a crazy comedy would require the director to be crazy. Darwaaza... starts out looking like a well-formed plot but things start falling apart half an hour into the story. One sees hope in the characters in the beginning. There are obvious attempts towards the forming of a backstory to each of them. But one later finds those were only passing remarks. The four kidnappers are flat. There is no life to them as characters.
The actors have done their best though. Manisha Koirala [Images], as one of the hostages, disappointed. I guess we could blame it on the lame character. The prime hostage, Isha fits in her role (again lame).
The good bits you ask? Well, the camerawork is pretty much all that keeps your eyes on the screen. There is something to be said in favour of the title song too. But, as I said, these are small reprieves.
Rediff Rating: