Advertisement
August 02, 2006 17:43 IST
Omkara blew my mind.

I can't remember the last time I said that about Hindi cinema, something I am force-fed once a week, on average. Vishal Bhardwaj's film, however, is a superlative-exhausting work of passion and tribute, skill and style. Spellbinding stuff.

Here, in no particular order, are five reasons I love Omkara [Images].

Language: The words, the words. Soiled with heartland grime, the dialogues come at you with a superb realism disarming to most of us used to synthetic (at best; usually just trite tripe) often-familiar Hindi screenplays. Vishal, insistent on writing his dialogues himself, has drawn massively into his Uttar Pradesh upbringing and scripted a masterpiece -- the words are raw yet poetic, abusive yet literate, mundane yet metaphoric.

Transferring the Bard into bhaiyya-speak (no offense, Bhardwaj bhai) is as uphill as tasks get, but Omkara manages with a flourish, displaying deft nuances while sticking extremely close to the source material. The metaphors and idioms are magical, and there's a consistent strain of wry humour running through the lines.

And I'm immensely, even selfishly grateful they haven't bowed down to market strains by toning the dialect down into more-comprehensible Hindi. Spending considerable time explaining dialogues to a bewildered Parsi buddy, I was glad to have been exposed to enough of the flavour and tone of the words up in Delhi. While the feel is as pure as it gets, a massive part of the country will not follow most of what is said, even listening intently.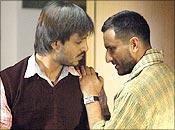 Maybe the reason the film isn't doing too well here but efficiently abroad is due to subtitled prints. Honestly, even while relishing the lines in the theatre, I couldn't help but lip-smackingly think how great it would be to savour the words on a well-subtitled DVD.
Loyalty: So sue me, I'm a purist. A fervent Bard lover, I wasn't a huge fan of Maqbool. In my opinion, the director went too far out on a limb, and his denying the ghost and the witches muddled up the final act. The film was very well-crafted, Pankaj Kapur and Tabu [Images] were superb but that's about it. Anyway, I digress.
As plays go, Othello is my favourite among the Tragedies, largely because it features Shakespeare's finest character, Iago. Bhardwaj too seemed to find little wrong with the original, for even while he transposed it into a completely different time and setting, he's hardly wavered from the script.
Othello: Was not that Cassio parted from my wife?
Iago: Cassio, my lord! No, sure, I cannot think it,
that he would steal away so guilty-like,
seeing you coming.
The translations are almost literal, even as the characters bark into mobile phones and watch showgirls dazzle policemen. The changes are but superficial, as the telltale handkerchief takes on the avatar of a precious cummerbund handed down from generations past. Not finding much individual use for Duke, Antonio and members of the council, Bhardwaj rolls them all into his wily Bhaisaab.
Conversant with the play, it's a delight to watch Vishal take the familiar moments and play them his way, piling on scene after scene straight from the play, but each given his own quirky twists and styling. The challenge doesn't lie in the changes, but in staying true.
It's often audacious just how neatly the script references Shakespeare, and the film's end is ruthlessly, beautifully loyal.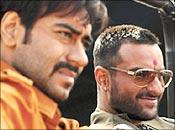 The players, and their choosing: While on beauty, it is impossible to not be mesmerised by Kareena Kapoor [Images], who looks her best as she fittingly plays Desdemona. 'That whiter skin of hers than snow and smooth as monumental alabaster,' as the dark Moor described his bride, is positively luminous in Kareena's Dolly Mishra. Her character is one of the hardest to essay, as she goes through love and awe, fear and bewilderment, defiance to her father and submission to her man.
Kareena doesn't have the lines, but she has moments demanding powerful use of expression, and she delivers. Conversely, even as she proves what difference a director makes, Vivek Oberoi's [Images] Cassio is tragically cardboard, as if daring someone to make him act. This results in an unexpected (I'm assuming) effect, as we lose sympathy completely for Kesu Firangi, beginning almost to root for the cripple.
And what a marvellous cripple he is. So much has been written about Saif Ali Khan's [Images] Langda Tyagi, and so much it inevitably falls short. Suffice it to say that it is a bravura performance, and he crucially achieves the rare fine line: he overwhelms yet utterly disgusts; we are incredulous in adulation of his detailing; we will him to die.
Omkara marks Saif's emergence into the very forefront of his acting peers, and we gleefully applaud. He's so, so wonderfully loathsome, right down to the tiniest detail. And he has the finest, finest lines, each worthy of being on a t-shirt. His only competition there is his wife. Konkona Sensharma, always a great actress, is steadily piling on the brilliance. She has but a few minutes, but they are glorious and vital.
Othello is a tricky role, a leading man eclipsed by the villain. Yet the Moor is a brooding and compelling character, and Ajay Devgan [Images] does valiantly with his material. Omkara strips Othello of the racism, exchanging his black skin for surprisingly inconsequential half-Brahminism. Ajay's best bits are when restrained, and while there is a bit of a seen-that feel to his character, by the time the film is over, you realise just how unflinchingly solid he's been.
Naseeruddin Shah [Images] has no histrionics as Bhaisaab, but tons of the quiet dignity his character demands. A warm hand must also be reserved for the excellent Deepak Dobriyal, whose Rodrigo (here Rajju) turn is precious and integral to the narrative. And finally, just where did Vishal find that terrific old lady?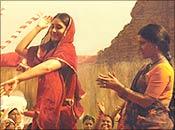 Sights and sounds: Omkara is a slow film, a poetically drawn out work that mercifully doesn't try to rush itself. The violence, while rampant, remains atmospheric -- it is there for effect, as a backdrop, to pretend that the film has pace. Cinematographer Tassaduq Hussain -- whose short films made as a film student in the US thrilled Vishal -- has framed the film deliciously, each shot neatly boxing in light, shadows and high drama. Samir Chanda's art direction is masterful, the sets evocative and realistic, exaggerated enough to be theatrical while detailed enough to be convincing.
Enter Bhardwaj the composer. This is a fabulous soundtrack, as Vishal's irresistible folksy tunes fit tidily into the film, enhancing and never once interrupting the lazy narrative. The theme song is used unexpectedly, during the first fight scene -- and it is this maverick, almost slapdash fashion of filmmaking that makes Vishal thrilling to watch. Even the two full-blown dance numbers work well, Beedi serving almost as an interruption to Iago's devilish thoughts, and Namak often pacily interrupted, relegated to background score. Best used is the Jag jaa song, and Vishal's weaving it into the narrative is inspiringly good.
Creativity: For all his loyalty to the Bard, this is such an original take on Shakespeare. Lines from the original manifest themselves sporadically here, and not always in dialogue. Iago is the green-eyed monster, Saif's character is unmistakably shot with green-tinted light; Omkara plays the black Moor, emphasized by his shawl the colour of midnight. It's how perfectly the filmmaker decides to incorporate these touches that make this his film.
Oh, but then there's also so much all Vishal's own. Something that stood out for me was his take on good and evil. Bhaisaab, the kind of warlord who casually orders trains to turn around, bears more than a passing resemblance to Mahatma Gandhi [Images]; Iago, the articulate embodiment of all evil, is here called Ishwar.
Omkara is a very special film, the kind that comes around rarely, making you instantly long for a repeat viewing and the filmmaker's next project. One hopes it won't be long. Salutations, Vishal Bhardwaj, and thanks for the film.>
PS: If this is what happens when a music director watches a Krysztof Kieslowski film, maybe we should send around box sets to Anu Malik [Images] and A R Rahman.