Advertisement
August 02, 2006 17:20 IST


Move over Farah Khan [Images].

Hindi cinema is now dancing to newer beats. Ever since she choreographed the fabulous Pehla Nasha in slow-mo for Jo Jeeta Wahi Sikander, Khan became the undisputed goddess of dance for much of the film industry in Mumbai.

Now, a decade and a half (and directorial ambitions) later, the choreographer seems to have found a worthy successor.

Vaibhavi Merchant, just a couple of years into the film industry, is as much a bundle of energy as Khan and a trifle more initimidating -- if you go by reputations in the industry.

Actors who have struggled to replicate her 'perfect' moves on screen -- Ayesha Takia [Images] says, 'When you watch her you think if you are able to do it exactly, it will be perfect' -- will tell you how the petite frame and pleasant demeanour belie the tough taskmaster within who focuses not just on the technical movements but on everything else too. Right from the dynamics of the frame, the colours and so forth to camera angles and -- more importantly -- an actor's attitude and emotions.

But, first, rewind. If you have watched a lot of Hindi cinema lately, you would probably have realised that most hit numbers have one name in common -- Merchant's.

Starting from Hum Dil De Chuke Sanam (where she bagged a National Award for Dhol baje) to Lagaan [Images] (O re chori), Devdas, Rang De Basanti [Images], Dhoom, Bunty Aur Babli [Images], Fanaa [Images] and Krrish [Images], Merchant has directed most of the popular dance sequences in recent times, including the spectacular Kajra re last year.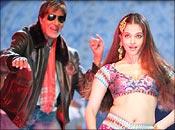 In fact, you could even attribute the unlikely casting of Aishwarya Rai [Images] in this quintessential 'item number' to Merchant. "Shaad (Ali, the director) was discussing who to cast for the number and the first name that came to me was Aishwarya's," Merchant says.
The choreographer seems to be a favourite with Rai (and vice versa) ever since she directed the actress in Aankhon ki gustakhiyan (Hum Dil De Chuke Sanam).
Merchant is a staple with Sanjay Leela Bhansali [Images] too -- the latter is supposed to have gone to her father after the filming of Aankhon ki to tell him that 'without your daughter I would have screwed up,' or so goes the story. Indeed, the song done without any lip-synching on the part of the lead actors was beautifully conceived.
Now, Merchant is set to direct Rai in another film that will (hopefully) get the nation's feet tapping yet again. JP Dutta's Umrao Jaan [Images], set for a September release (the filming has been completed), has Rai essay the role made memorable by Rekha [Images] in the Muzzafar Ali period drama set in Lucknow.
It is not just the actress who has a lot to live up to but also the choreographer -- and not just because of the highly stylised way in which Ali had presented the mujra in his version. The choreograher for Ali's film was guru Kumudini Lakhia (director Apoorva Lakhia's mother; Bollywood, after all, is one big family!), a well-known name in the circuit even if few may have heard of her otherwise.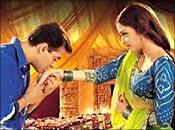 Lakhia has also been Merchant's teacher and a big influence on her, a fact that she acknowledges when you ask her who (or what) has influenced her most. Merchant trained in Bharat Natyam before Lakhia taught her the nuances of Kathak -- "In Kathak, you need to move your body differently, just the upper half," the choreographer points out.
But despite the influence of her guru, one way in which Merchant's mujra will differ from what Rekha showed us will be in the fact that it will be definitely more lively, more pop, if you like. "J P Dutta told me just one thing, 'please don't make her (Rai) dance sitting down'!" Merchant says.
The film apparently has a breathtaking sequence where Rai dances (for Abhishek Bachchan [Images]) with the City Palace, Jaipur, where the film has been shot, as the backdrop.
But films apart, Merchant has been involved with another big project that is likely to win her even more of a name in the months to come. The Merchants of Bollywood, a first-of-its-kind musical inspired by all the hits in recent years (including Mehndi laga ke rakhna from Dilwale Dulhaniya Le Jayenge), is ready to make its debut in Britain this winter.
The show, written by Toby Gough, was originally an Australian production and was successfully put up in that country before finding British sponsors. It features 40 singers, dancers and actors and has not just been choreographed by Merchant, but is, in fact, loosely based on her life!
It tells the story of the ambitious Ayesha Merchant and her grandfather Shantilal and the clash of generations -- in true Bollywood ishtyle. Like her namesake on stage, Merchant too had to overcome a deeply traditional family in order to make it big in the film industry.
Despite the fact that dancing is in her genes -- she is dance director Chiniprakash's niece and started out assisting him while still in her teens, and her grandfather was the choreographer for the Dev Anand-Waheeda Rehman starrer, Guide  -- Merchant met with stiff opposition from her family when she announced her choreographing plans.
"Girls in the family were very protected," she says, "And, dance, ironically, seen more as a 'male thing.'"
Since then, obviously, Merchant's world and the world of Hindi cinema have both come a long way.
Powered by