Home > Movies > Reviews

Mistress of Spices: So bad, it hurts

Chinmayee Manjunath | April 28, 2006 18:18 IST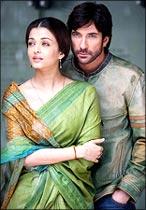 It's impossible to pick the worst thing about Mistress of Spices.
Is it the stereotypes – exotic India in the strands of saffron, the yellow hues of turmeric or the fiery bite of a chilli? Is it Aishwarya Rai – pensively simpering, beseeching 'her' spices to 'talk'? Is it the range of incoherent, empty-headed characters, like the one essayed by Padma Lakshmi, who looks unexpectedly hideous? Could it be Dylan McDermott, trying to look oh-so-hot but ending up laughably insipid? Or is it just the fact that Paul Mayeda Berges, in all his wisdom, has faithfully translated Chitra Banerjee Divakaruni's passable book into an indigestible film?
One could keep adding to this list, but let's resist that temptation.
Those who read the book either loved it or hated it. Because Divakaruni's overwrought prose, with its undertones of magic realism, evokes either appreciation or loathing. The film though, goes one step further in being utterly awful.
Rai plays Tilo, who acquired powers of divination as a girl and, through vaguely believable twists of fate, finds herself washed ashore on what seems like a part of Kerala. There, the First Mother, played by prima donna Zora Sehgal, holds forth on the magic of spices and teaches a group of young girls how to use them to help others, in various cities across the world. Warning her not to step out of the store, not to use the spices for her own desires and never to touch the skin of anyone else, Sehgal packs Tilo off to San Francisco.
Ash: I want to do action films
There, in the picture-pretty Spice Bazaar, Tilo hands out packets of cloves, pepper and sesame to Haroon, a Kashmiri cabbie, Dadaji, a culture-shocked grandfather (played by a bored Anupam Kher) and sundry others, including a token African-American. She whispers their attributes -- garlic as an aphrodisiac, asafoetida as an antidote to love, cinnamon for friendship and so on. Some work, some don't, but no one's complaining.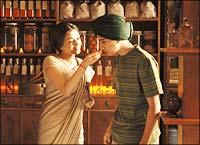 Until, preceded by the whispered warnings of the chilli (don't even ask), Doug (McDermott) has an accident right at her doorstep. And all of Tilo's hidden, denied desires come leaping forth, much to the anguish of her beloved spices. Aided by the punch of pepper, he unravels a past that has an American-Indian twist to it. She listens and falls in love. Of course, Doug and Tilo touch, leading the spices to wither, get infested with worms and backfire on the unsuspecting souls who have believed in the mistress' magic.
And so the story progresses, ridden with accidents and a coy moment of love-making, until Tilo's destiny unfolds itself, in the most predictable manner.
What's most unfortunate about the film is its earnestness. Berges and his wife, Gurinder Chadha, the acclaimed director of Bend It Like Beckham, seem to have put their hearts and souls into it. Sadly, they fall short in almost every aspect.
The story is so tedious it makes ants crawl through your brain. Situations begin to play themselves out and are cut short. Dialogues are so terrible you are torn between tears and hysterical laughter. Especially when Tilo whispers, 'talk to me, spices' or 'why are you warning me, chilli'. The soundtrack is a mish-mash of what could vaguely pass as fusion music, with a token Bally Sagoo composition.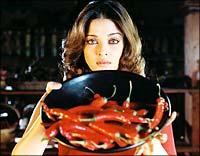 Characters appear, then vanish. The roles of the protagonists, even, are half-baked. Tilo, in the book, is given to long soliloquies, which could have been used to layer her character, but she ultimately ends up being vapid. And Rai, with her affected accent and inexplicable pout, does no justice to the role. Neither do McDermott or any of the other actors. Possibly, the only one who is vaguely commendable is Ayesha Dharker in her too-fleeting cameo.
Mistess Of Spices' flaws are particularly disappointing because one would expect so much more from a partnership with Chadha, who has made evocative, touching and thoroughly enjoyable films in the past. Well, let's forget Bride & Prejudice for now. It's also particularly disappointing because, despite all its flaws, the basic plot of Divakaruni's book may just have been redeemed with an intelligent, sensitive and imaginative adaptation. It just may have.
Ah, and the worst thing about it may just be that it could lead you to harbour a deep, dark disdain for your own hapless spice cabinet. Be warned, the whispers of cinnamon and power of pepper are more irritating than you may have imagined.
Rediff rating:

Buy the Mistress Of Spices book!
Want to see this movie? Check out Rediff Movie Tickets!



What do you think about the story?








Read what others have to say:





Number of User Comments: 20








Sub: Ash.. is the one of the Sound actress i have seen so far..

She has a tremendous talent and depth in acting.Though her movie she acted be flop ,but i feel her acting is always recognised


Posted by Ivan









Sub: Give VRS to Raja Sen

He sucks big time!! He has proved it again. Yeah I'm talking about Raja Sen. The movie is not so pathetic as the review says. ...


Posted by Shivam









Sub: Over-rated

Rediff has rated this movie One Star. I think thats an overstatement. This was the crappiest movie I have ever seen. Guys, please do not ...


Posted by ways2gain









Sub: ash a mistress

i some time wonder is it the same ash who refused to kiss poor Chanderchoor singh in JOSH citing reservation about on screen kissing. Has ...


Posted by Rahul Dhar









Sub: congratulations!!

Very well written review!! Congratulations!! I felt exactly the same way about the movie. And Ash is so plastic and camera conscious!! Please go on ...


Posted by Heathcliff






Disclaimer