Home > Movies > Bollywood News

Behind the scenes at Rajshri Pictures

A Ganesh Nadar | April 26, 2006 17:03 IST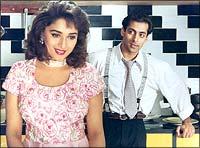 Rajshri Pictures began as a film distribution company on the day India became independent -- August 15, 1947. Today, with 26 branches, it is one of the biggest distributors of films in the country.
The founder, Tarachand Barjatya, started the film production wing in 1960. Its first movie, Aarti, starred Ashok Kumar and Meena Kumari and was released in 1962. Their second, Dosti, was a big hit with very popular songs.
When you ask them about comparative costs then and now, the people at Rajshri clam up. "In those days, if you spent Rs 5 lakh, it would be equivalent to Rs 5 crore today. So how can you say a movie made today is more expensive?" asks a spokesperson.
They have distributed some of the biggest hits of Indian cinema like Sholay, Amar Akbar Anthony and Victoria 203, and have also produced some of the biggest hits of all time like Maine Pyar Kiya and Hum Aapke Hain Koun (above). The latter is credited with bringing people back to theatres at a time when the film industry was suffering from an onslaught of pirated CDs and cassettes.
| | |
| --- | --- |
| | More on rediff.com ! |
| | |
In 1984, Rajshri ventured into TV with their first serial, Paying Guest. They did this as one more form of entertainment. Another of their TV serials, Woh Rehne Wali Mehlon Ki is now celebrating its 200th episode. Their latest TV serial is called Pyar Ke Do Naam, Ek Radha Ek Shyam.

When asked about movie making, they say it hasn't changed in any way. The sentiment remains the same, it is only the equipment that has changed. Technology has leaped far ahead since they began 46 years ago.

The idea of making family movies came from the founder. A devout Jain and staunch devotee of the Aurobindo Ashram in Pondicherry, he couldn't imagine making a movie that depicted violence or sex. This ideal is still followed strictly today.

Rajshri is also credited with introducing some of the biggest stars of the day like Rakhee, Jaya Bhaduri, Anupam Kher, Bhagyshree, Salman Khan and Madhuri Dixit. The directors they have promoted include Basu Chaterjee, Lekh Tandon and Mahesh Bhatt. Their favourite music directors include Laxmikant Pyarelal and Ravindra Jain.

Although they agree that people do go to watch smut on screen, they are happy that "When a family goes out to see a movie, they pick a Rajshri movie."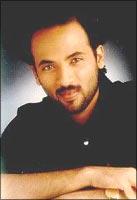 Tarachand had three sons -- Kamal Kumar, Raj Kumar and Ajit Kumar. Each of them is involved with different aspects of filmmaking. Tarachand's grandson and Raj Kumar's son is Sooraj Barjatya (left), who made box office history with Hum Aapke Hain Koun. He made his directorial debut with Maine Pyar Kiya at the age of 22. There must be something in the genes.
Their music company Rajshri Music has released many non-film albums successfully. It is run by Rajat Barjatya, son of Rajkumar and the youngest family member in the business.
In all, Rajshri Pictures has made 50 movies to date, their last being Mein Pyar Ki Diwani Hoon. They are currently working on Vivah. Why didn't it star their favourite, Salman Khan? "We introduced Salman as a 22-year old. We cannot use him for this role as he is now 40." So, Vivah stars Shahid Kapoor and Amrita Rao.
Their movies always revolve around marriage because, according to them, it is the most important event in every person's life. Vivah will be ready for release in October this year. It is being shot in Mumbai, Delhi and Nainital. Will the Rajshri magic still work? We're waiting for this one.


What do you think about the story?








Read what others have to say:





Number of User Comments: 3








Sub: abhi

time is over


Posted by a









Sub: Typos?

There are quite a few typos: Their last movie 'Main Prem Ki Diwani Hoon'. Picture of Sooraj Barjatya is on right as opposed to left. ...


Posted by Nitin









Sub: mistake in the article

The last Rajshri movie was "Main *prem* ki diwani hoon", not "Main *pyar* ki diwani hoon"!! It's a small mistake, but I don't find a ...


Posted by Hina






Disclaimer