Home > Movies > Reviews

Pyare Mohan: Could have been better

Sukanya Verma | April 21, 2006 18:08 IST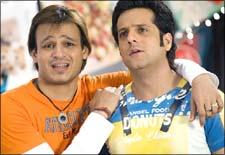 Remember how, as children, we would stage a school play? The sets were shoddy. The timing was incorrect. And the acting ranged from expressionless to over the top? Even so, other children in the audience would laugh at the goof ups; sometimes boo as well, yet generally have a good time.

The scenario doesn't alter much in Indra Kumar's Pyare Mohan. Only this time, the actors are grown ups and the audience is mixed.
| | |
| --- | --- |
| | More on rediff.com! |
| | |
As the film isn't completely dreadful, I walked out producing various theories: they should have added some more gags. The punch lines could do with a little more tickle. The actors lacked comic chemistry. Somewhere in the middle, Pyare Mohan starts to take itself too seriously. Had it mocked its own silliness, the laugh-lines would be more pronounced.

Now what makes the flick nearly tolerable? It's silly, yet harmless. There are some genuinely corny moments, which may make you snigger and snort at the same time. Of course, there is no place for logic. But then it's the viewer and not the maker who is stupid, if he expects to make sense of an insane plot involving the adventures of two physically challenged blokes. It's not the plot, or lack of it that goes wrong anyway. We'll get there later. First what's this one about:

Pyare (Fardeen Khan) is blind. Mohan (Viveik Anand Oberoi) is deaf -- a result of a freak accident during their stint as stuntmen. Now, they run a gaudy greeting card store, which, if the décor is any indication, believes that 'Everyday is Valentine's day'. Pyare and Mohan are what heroes in the 60s used to be – idealistic, virtuous, sweet, helpful and golden-hearted.

Viveik: Not in a low career phase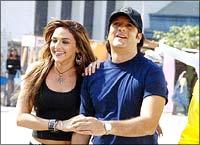 The first few reels employ a couple of gags to establish their identity and dream. They both want what heroes in the 60s wanted -- a beautiful girlfriend. That's as far as the connection goes. In the next twist, the film becomes a woo the girl-get rejected-save her neck-get accepted vehicle.

If you've watch two-hero masala potboilers like Love 86, you will have no problem guessing what will ensue. Only here, instead of warring parents, the girls (Esha Deol and Amrita Rao) face the wrath of a presumed-to-be-dead underworld don Tony (Boman Irani), whom they catch the act of cold murder. Are you like, confused? Don't be. That will only add further stress to the neurons.

Most of the screenplay by Milap Zaveri and Tushar Hiranandani is put together haphazardly with juvenile humour and gross innuendoes. Like exposing a poor, unsuspecting horsie's potty area and suggesting how blundering bad guy, Tiny (Snehal Dhabli) leaped inside. Grow up, Indra Kumar!

Technically and musically, Pyare Mohan is as lame as its jokes. The set designs are cluttered and unattractively staged and the choice of outdoors (in Thailand) is devoid of detail and imagination. Thankfully, not too many of Anu Malik's mundane songs show up on screen and that is quite a relief.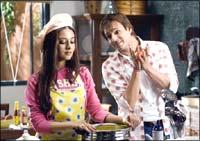 Fardeen Khan and Viveik Oberoi are no Amitabh Bachchan and Dharmendra. The camaraderie is rehearsed and artificial. It's the kind of fake bonding you are accustomed to seeing in MTV spoofs. Fardeen played comfortably silly in No Entry, but here, he awkwardly oscillates between the good guy and the funny guy. Viveik's energy is nice and all, but it severely contributes to the ham in him.

Esha Deol and Amrita Rao look trendy and bring out the painted smiles and glycerine bottles whenever the script orders them to. Of the four, Esha is the most spontaneous. And there is Boman Irani as well. The man plays a sadistic, lisping, merciless gangster with so much conviction that he looks as if he's acting in a different movie altogether.

Humour is a very flexible genre. It can range from slapstick to situational to farcical to sarcasm. But to achieve either, the joke has to fall in place. In Pyare Mohan, it misses. And not just once.
Rediff Rating:

Want to see this movie? Check out Rediff Movie Tickets!



What do you think about the story?








Read what others have to say:





Number of User Comments: 8








Sub: a film ONLY for the blind and deaf !!

how bad can comedy get!! that s what i thought when i went to see this movie.. i soon realized nothing had quite prepared me ...


Posted by thegodfather









Sub: One of the worst films ever!

I am usually quite tolerant when it comes to bad films and more often than not give them the benefit of doubt. Moreover, if I ...


Posted by George Bush









Sub: Dumb, Dumber and Dumbest

why do we run with hollywood when we dont have people like them neither we have actors like them. I am not trying to degrade ...


Posted by sudhanshu yadav









Sub: Minus 5 Stars

Worst movie i saw. I dont know how do i persuade myself to watch such movies. In just 1 hour into the movie, i was ...


Posted by Prashant Shirsat









Sub: movie is way CHEAP

movie is way cheaper than I think it appears to be in promes. There was another tom dick n harry why bollywood os going so ...


Posted by apnabusiness






Disclaimer