Advertisement
April 21, 2006 15:12 IST
Last Updated: April 21, 2006 16:50 IST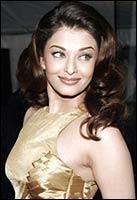 Aishwarya Rai fell from a bicycle while shooting at Badami in Karnataka's Bagalkote district this morning and suffered 'minor abrasions,' police sources said.
"She suffered minor abrasions in the leg. She was given treatment and there is nothing to worry," a police official said.
The actress was shooting for Mani Ratnam's Guru, in which she plays the lead role opposite Abhishek Bachchan [Images]. Guru is said to be a historical film set against the backdrop of India's struggle for Independence. Shooting for the film was in progress for the past few days, sources said.
This is not the first time Ash has been injured on film sets. Earlier, she had met with an accident when a jeep backed down on her on the sets of Rajkumar Santoshi's Khakee [Images].
Director Mani Ratnam has also witnessed accidents while filming before. During the Yuva [Images] shoot, Ash's former beau Vivek Oberoi [Images] injured himself in a bike accident.