Home > Movies > Report

Rajkumar's legacy

M D Riti | April 17, 2006 15:41 IST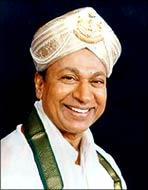 If there is a first family in Karnataka, it is – and always was – Rajkumar's. And here are the people Rajkumar leaves behind, to enjoy the fruits of his popularity, uber iconic status and vast property.
Rajkumar's wife Parvathamma married him when he was still a struggling, itinerant Kannada theatre actor. She vividly recalls the days of waiting at numerous railway stations with her husband and infant child, on their way to some show with a travelling drama company. Parvathamma went on to become Rajkumar's business manager and a successful movie producer in her own right after he hit big time. She also, subsequently, got into the film distribution business. Today, she's one of the Kannada film industry's movers and shakers.
Both of Rajkumar's daughters are homemakers. One (Poornima) is married to Ramkumar, a film star, while the other is married to a producer and distributor. Poornima acted with her father in just one film (Premada Kanike) as a child star over two decades ago.
His three sons are all film stars and were launched by Parvathamma, under the family banner. The oldest, Shivaraj, has been a popular hero for the last two decades. He has his own fan club that calls itself the Shiva Sainya (Shiva's army). He lives in a huge house adjacent to his father's. He has two daughters, Nishkala and Nivedita, who has starred in a movie (Andaman) with her father.
The second son, Raghavendra, started out wanting to be a doctor but eventually joined the family business. Though he did not achieve the superstar status his brothers did, Raghavendra became Rajkumar's confidante. Whenever Rajkumar ventured out, it was generally with Raghu by his side.
Raghu and his younger brother Puneet also lived with Rajkumar in his house in Sadashivanagar. Raghu has two sons and Puneet has a little daughter. Now 31, Puneet got into films in a big way about five years ago. He is probably not yet as celebrated a star as Shivaraj, but seems on his way there, with a growing fan club. Puneet is also known as Parvathamma's confidante and business associate.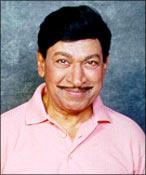 What exactly is the material legacy Rajkumar leaves behind? Nobody really knows. There is a house in Sadashivanagar, farms outside Bangalore and in his home town of Gajanur, a production and distribution business that actually belongs to the family but also used a lot of Rajkumar's goodwill.
Some of the money is believed to have been given to Veerappan as ransom, to facilitate Rajkumar's release. Along with a lot of government funds, of course. But, if one goes by popular accounts, there's enough left behind. Much of this came from the investments made by Parvathamma and Rajkumar's brothers, as the income the actor earned barely sufficed to support the extended family. However, according to certain rumours, Rajkumar was never really aware of how much his earnings were and how they were being used.
And thus, the real legacy that Rajkumar leaves behind, what he nurtured and was constantly reminded of, is his popularity, and the love of thousands of Kannadigas and fans around the world. This has also been the most lucrative asset for his family members, who have built their privileged lives and successful careers on it.
Special: Farewell, Dr Rajkumar


What do you think about the story?








Read what others have to say:





Number of User Comments: 1








Sub: anna namma annna

i love DR. raj forever


Posted by yashavantha G






Disclaimer