Home > Movies > First Look

Preity, Saif rock New Jersey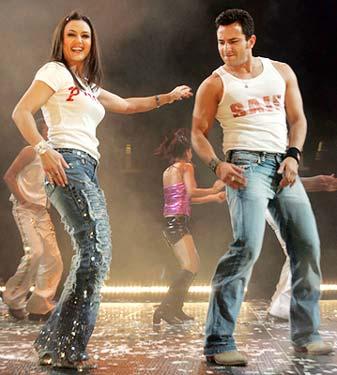 Preity Zinta and Saif Ali Khan kicked off the Heat concert in New Jersey on April 15 with a houseful of excited fans.
After his emergency appendectomy in Kuala Lumpur, Malaysia, Saif was not expected to join the tour so soon. But the actor, claiming he was fine, didn't cancel the tour.
Other Bollywood stars performing were Akshay Kumar, Sushmita Sen, Arjun Rampal and Celina Jaitley.
The next stop for the concert will be New York, on April 22.
Photograph: Mohammed Jaffer-SnapsIndia


What do you think about the story?








Read what others have to say:





Number of User Comments: 5








Sub: New Jersey rocks by Preity & Saif

Iam very much delighted to know that both Preity & Saif rocked New Jersy. I want more picture of the show. Regards Santanu ...


Posted by Santanu Bose









Sub: Is Saif angry with Dubai ???

Saif Ali Khan had an appendicitis operation & hence couldn't dance in Heat Live, an all-singing all-dancing star show held on April 6 in Dubai. ...


Posted by Pramod Mohan









Sub: wonderful news

Don\\\'t you guys have anything better to do than print this kind of crap and call it news?


Posted by Dev









Sub: Heat concert was a disaster

Hi, I was at this concert and I was totally dissapointed. The show was probably the worst stage show I have seen in my life. ...


Posted by Sandeep









Sub: Preity, Saif rocks NJ

Yikes! Only a brain-dead idiot with a glass eye and wooden ear will pay to see some lip-syncing morons carry on like prancing wallabies and ...


Posted by labrea






Disclaimer