Home > Movies > Memories

The man who changed Kannada cinema

M S Dhaan in Bangalore | April 13, 2006 13:57 IST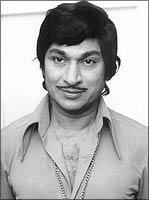 Dada Saheb Phalke awardee Dr Rajkumar's is a typical rags-to-riches story one gets to see in some of his films.
Muthuraj, rechristened Rajkumar for movies, was a village boy. He rose to fame after setting his foot gingerly on the land of Kannada films. His reluctance to act in films in the beginning were well known. But for the efforts of his brother Varadaraju, Kannada filmdom might have missed out on a great actor. It is said that Varadaraju's recent death had created a vacuum in Rajkumar's life.
Special: Farewell, Dr Rajkumar

Having studied up to the third standard, Rajkumar joined his father Singanallur Puttaswamayya and brother Varadappa's (Varadanna as he is called) in performing for a drama troupe. Later, he joined the famous Sahitya Samrajya Nataka Mandali of Subbaih Naidu to eke out a living. He soon made his mark with brilliant portrayals of a varied range of characters.
Born on April 24, 1929, Rajkumar hailed from Gajanur in the Karnataka-Tamil Nadu border area. Known as the pillar of strength of the Kannada film industry, Rajkumar set the record of bagging the Best Actor Filmfare Award for regional cinema 10 times. Among other awards were Karnataka government's Karnataka Ratna (equivalent to Bharat Ratna at the national level), and nine Best Kannada Actor awards. 
A pro-Kannada activist, Rajkumar never acted in other language films, in spite of his proficiency in Tamil. His immense contributions to the Kannada primacy movement through the Gokak agitation during the middle of 1981-82 were hailed by the people of Karnataka. He led a movement to collect funds for drought relief in 1961, when the country was facing famine.
Having started his career with Bedara Kannappa in 1954, Rajkumar's last movie was Shabdavedi (2004), in which he acted as a police officer and awed all with his agility.
Acting came to him naturally. Rajkumar seemed just cut out for the mythological characters he used to portray in the drama troupe. His first movie Bedara Kannappa, based on the life of a hunter turning into a hard-core devotee, was a grand success. Known for his down-to-earth demeanour, Rajkumar never had the air of a superstar.
The veteran actor was held captive by notorious forest brigand Veerappan on July 30, 2000 for nearly 108 days. This took a toll on his health.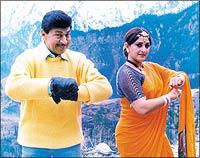 Rajkumar was a yoga expert, often conducting lectures on the benefits of yoga. He often sang his songs in films, and even lent his voice for his sons' films.
Rajkumar cut some albums of devotional songs on Saint Raghavendra, whom he believed in as God. He portrayed the God's life in a film playing the saint himself.

He was honoured with several titles for his contributions to the Kannada cinema and Kannada language. The greatest honour came to him from the Mysore University which conferred upon him the honorary doctorate.
Rajkumar was paired with 40 actresses, foremost of them being Jayanthi. He appeared with her in 37 films. From 1934,  when the first Kannada film Sati Sulochana hit the screen, only 30 films were made till 1954. Things looked a lot brighter after Rajkumar entered the scene.


What do you think about the story?








Read what others have to say:





Number of User Comments: 5








Sub: Dr. Rajkumar- the kannada pride

We have lost the greatest person who struggled for the cause of kannada, kannada land, karnataka water, kannada culture and in general the cause of ...


Posted by muralidhara









Sub: Legend

Dr. Rajkumar was not only a legend but a very good person in life,which does needs any explanation but can be seen by the people ...


Posted by Harish Sheregar









Sub: Brand Ambssador of Kannada

Dr. Rajkumar was a brand ambassador of Kannada culture, he was a institution in himself, moreover he was a complete man.


Posted by Venkatachalaiah S.T









Sub: legend who passed away

As every one now that the great actor Dr Rajkumar has passed away leaving us in dark.Now its time for every kannadiga to follow his ...


Posted by praveen ramakrishna









Sub: Dr Raj is Great

None can match Dr Raj, Not only he is a great actor, he was a great person, great human.


Posted by GLN






Disclaimer