April 13, 2006 14:19 IST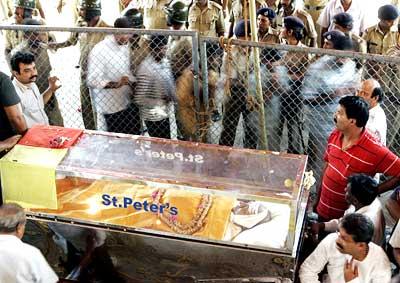 Tens of thousands of distraught and emotion-charged fans of Kannada thespian Rajkumar filed past his mortal remains, paying their last respects to the icon.
In an atmosphere of sombriety, the fans, most sobbing uncontrollably, came in a steady stream and bowed in respect in front of the body which lay in state at the Kanteerava Stadium in the heart of Bangalore since Wednesday night.
Tamil superhero Rajnikanth [Images] and actor Prabhu were among the early mourners who paid their homage to Rajkumar, who passed away Wednesday. Rajnikanth stood for a while in front of the body with folded hands and eyes closed before speaking to the family members of Rajkumar.
Lathi-wielding policemen kept a close watch in the stadium and elsewhere, aided by the Karnataka State Reserve Police and Rapid Action Force to prevent any untoward incident in the city, which saw frenzied fans damage dozens of vehicles, including those of police, and public and private property.
Karnataka is observing a two-day state mourning since Wednesday and the government has announced holiday for offices, schools, colleges and courts, as a mark of respect to Rajkumar, a recepient of several awards, including the state's highest civilian award, the Karnataka Ratna.
Prez condoles Rajkumar's death
Karnataka Governor T N Chaturvedi, Union Minister of State for Planning, M V Rajasekharan, singer Ashwath, actresses Malashree, Shruti and Sudharani and cricketer Anil Kumble [Images] were among those who paid their last respects to the thespian today. "He was a great man, and it's not possible to fill the void. His contribution to Karnataka is huge. I saw many of his films, from the childhood days itself," said Kumble. Sarojadevi, fighting back tears, said, "He was not just a great artiste; He was a complete man".
Special: Farewell, Dr Rajkumar
Text: PTI | Photograph: Getty Images