Home > Movies > Message Board

April 12, 2006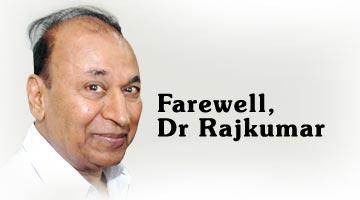 Kannada thespian Dr Rajakumar passed away into the ages this afternoon.
He was the king of Kannada cinema and had a huge fan following across the world. Unlike his contemporaries like MGR or NTR, Rajakumar stayed away from politics, though this did not take away from his immense popularity.
He gave us great movies like Bangaaradha Manushya, Kasturi Nivasa, Gandhadha Gudi and Jeevana Chaitra.
He would have turned 79 on April 24.
Join rediff.com in bidding one of the most loved actors of Indian cinema goodbye.
Complete coverage: The abduction of Dr Rajakumar


What do you think about the story?








Read what others have to say:





Number of User Comments: 681








Sub: Kannadigas in the diaspora feel a sad loss with the passing away of Dr. Rajkumar !

Many among us who grew in postcolonial Goa have a special regard for the thousands of Kannadigas who crossed the Ghats and made Goa their ...


Posted by Dr. Cajetan Coelho









Sub: FAREWELL

Like a Star that glitters and like Gold that shines, you will always be remembered for ever. Srinath


Posted by SRINATH









Sub: God bless the greatest soul of Karnataka- Dr. Raj Kumar

Dr. Raj Kumar was "Bangarada Manushya". People like him are not born everyday but only once in a lifetime. Even after having seen great successful ...


Posted by Dipal Shailendra T









Sub: God bless the greatest soul of Karnataka- Dr. Raj Kumar

Dr. Raj Kumar was "Bangarada Manushya". People like him are not born everyday but only once in a lifetime. Even after having seen great successful ...


Posted by Dipal Shailendra T









Sub: The Legend is immortal

Dr.Raj is a rolemodel for many artistes today. He is a neat personality who was admired by everybody who has ever met him. Let we ...


Posted by shyam






Disclaimer