Home > Movies > Reviews

Shaadi Se Pehle: Timepass!

Vipin Vijayan | April 07, 2006 16:28 IST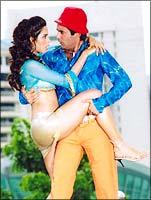 The mind is its own place. In itself, it maketh a heaven of hell and hell of heaven
-- John Milton.
This pearl from the legendry English poet aptly sums up director Satish Kaushik's directorial venture, Shaadi Se Pehle.

Made under the Mukta Arts banner, Shaadi Se Pehle is just like any other comedy film.
Kaushik did the best with what he had in hand -- an almost-forgotten Akshaye Khanna, a bubbly Ayesha Takia, an all-time struggler Aftab Shivdasani, a predictable Rajpal Yadav, an even more predictable Suneil Shetty, comical Boman Irani and Anupam Kher, and the ready to bare Mallika Sherawat.


| | |
| --- | --- |
| | More on rediff.com! |
| | |
The movie starts off with Ashish (Akshaye) and Rani (Ayesha) falling in love during their college days. When Ashish goes to meet his wealthy prospective father-in-law (Vijayendra Ghatge), the latter starts ranting about our hero's haisiyat (social status). The pop-in-law-to-be says Ashish has to make himself worthy of his daughter's hand.

Which he does. In about five years, Ashish gets himself a house and a Rs 25 lakh bank balance. How the creative designer of an advertising agency does that is another story.

The desparation to succeed earns him the habit of poping pills at the drop of a hat.

But after achieving everything, he faints on his engagement day.

Even though his doctor (Boman Irani) tells him that the tests were normal, Ashish is not convinced. Things take a turn when he overhears his doctor talking over the phone how the poor chap had cancer and that he would not survive for more than a year.

Thinking the doctor is talking about him, Ashish decides to free Rani from the trauma that she may have to go undergo upon his death.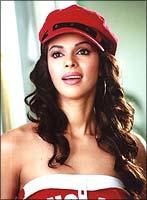 Unable to tell Rani that he has cancer, he devises ways to get rid of her. How he manages to do that and how he makes a mess of his life, getting up, close and personal with oomph girl Sania (Mallika) -- sister of underworld don Anna (Suneil Shetty) -- is what Shaadi Se Pehle is all about.
If the first half of the movie revolves around how our hero tries to get away from the gorgeous Rani, the second half is dedicated to songs, bullets, and double-meaning dialogues (the last bit is thanks to Mallika).
Shaadi Se Pehle tries its best to make the audience laugh. But the comedy falls flat as the film progresses. The initial part of the movie is hilarious when Ashish and his friend Rajpal Yadav plan the former's death ceremony -- booking cremation space, buying wood in advance -- in Mumbai.
Rajpal turns into an alcoholic once he gets to know his friend has cancer. His couplet-loaded dialogues lose colour (I mean humour) as the movie progresses.
The dialogues are banal, and seem tailored for the aam janta. When our hero first bumps into his lady love and she refuses his offer of cold water, he says, 'Yahaan main aapko cold drink offer kar rahaa hoon, aur aap hain ki mujhe cold shoulder de rahi hain.'
This gem follows immediately: 'Kya aapke pitaaji terrorist hai?'
Rani -- any other girl would probably have thrashed him -- asks: 'Kyon?'
Our hero's reply: Aap to bomb lag rahi hain.
Himesh Reshammaiya's music is decent and hummable.
Akshaye's outfits are awful. There's a scene where he turns up in a sand-colour jacket, sky blue trousers and shining red boots!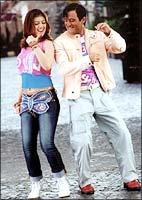 Moreover, he's a terrible dancer. But his expressions are his USP, which make him fit (only) for comedy roles.
Ayesh Takia is bubbly and has  great screen presence. But sadly, that is not enough for her films to succeed.
It's better to simply watch Mallika rather than rate her performance, laden with dialogues like: 'Main to poore India ko seduce kar sakti hoon.'
The film ends predictably, even though the scriptwriter tries to introduce twists like bringing in Bollywood's Bad Man Gulshan Grover in a role he can do with much elan -- that of a crackpot don.
Aftab Shivdasani plays a playboy (with a very un-playboy-like hair-do).

But numerous flaws notwithstanding, the movie may enjoy a good run at the box office.
Rediff Rating:

Want to see this movie? Check out Rediff Movie Tickets!



What do you think about the story?








Read what others have to say:





Number of User Comments: 17








Sub: Time pass

It is a thik thak type movie...only one time watching...but the song akhiyon se gal kar gayi is too guuuuuuuuud.i think that\'s the only gud ...


Posted by Monica Batra









Sub: Bakwas filum

didn't expected such movie from Ayesha Takia


Posted by Manav









Sub: review

'shaadi se pehle' is a timepass affair,if u don't hv ny gud movie to watch on a boring weekend u cud go nd watch this ...


Posted by prerit shishodia









Sub: Akshaye Khanna

"But his expressions are his USP, which make him fit (only) for comedy roles." Are u guys serious? U must be off ur rockers to ...


Posted by Deepak Jeswal









Sub: copy of 'mere biwi ki shadi'

It seems like a copy of Amol Palekar, Ranjeeta stared 'Mere Biwi ki Shadi'


Posted by Raj






Disclaimer