Home > Movies > Reviews

Can Salman's charm save Saaawan?

Patcy N | April 07, 2006 20:25 IST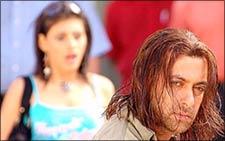 Salman ke wajah se log theatre tak aaye varna itna pakaw aur bakwas picture dekh ne kaun aayega.' That's what a man yelled after he came out of a show of Saaawan.
Trust me, he is right. Because for the first 45 minutes of the movie, you don't know what is going on.
The movie's plot puts most Bollywood movies – which throw reason to the wind – to shame.
| | |
| --- | --- |
| | More on rediff.com! |
| | |
It is about a man (Salman Khan) who can foresee the future. He meets a girl Kajal (Saloni Aswani) and predicts she will die in a week.

What happens after that is the two-minute story idea on which three hours of the movie are based.

The movie starts with Raj (Kapel Jhaveri) meeting Kajal in Cape Town, where both have come -- separately -- for a holiday. The next 45 minutes are devoted to their romance.  

The new lovers also realise their fathers are friends. That is a plot ploy -- rather an excuse -- to feature Ranjeet and Prem Chopra, who have no scope to perform, and end up just being loud.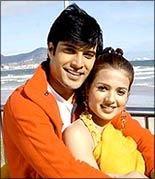 When they come back to Mumbai, Kajal bumps into Salman, who promptly saves her life, predicts her father's death and rescues her niece from a terrorist. Well, if you are wondering whether Salman is the girl's family angel, you are excused.
And Salman predicts Kajal will die in a week. Does his prediction come true? You will have to watch – rather, suffer – the film to find out.
For a girl who knows she is going to die, Kajal is astonishingly unperturbed. You will burst out laughing when you watch how she breaks the news – that she is going to die – to her boyfriend.
But then, Saaawan is full of flaws. It is also badly written and badly directed. The choreography is bearable but the music is lousy. The two newcomers – Aswani and Jhaveri – put in okay performances.
Oh, I forgot: Johnny Lever and Bobby Darling also feature in the movie. But their roles have no real relevance to the plot.
Salman Khan ranges from bad to funny, but you cannot deny the man has a certain charm. He makes his screen entry just before the interval and the crowd erupts, whistling, screaming, screeching.
If only Salman could foresee the fate of the movie. I don't think he would have signed it.
Rediff Rating:

Want to see this movie? Check out Rediff Movie Tickets!



What do you think about the story?








Read what others have to say:





Number of User Comments: 2








Sub: Saawan kumar is unfit

Saawan kumar has wasted lot of money for the movie which has nothing in it.the same story can be directed better.He also has broken many ...


Posted by krish









Sub: Saaawan

I was dissapointed...


Posted by Mike






Disclaimer