Home > Movies > Reviews

Banaras: a daft disappointment

Raja Sen | April 07, 2006 17:42 IST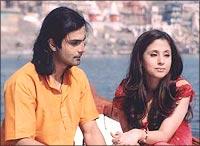 Ashmit Patel has a problem. It's not that he can't act. Director Pankuj Parashar has taken care of that issue admirably, skirting his skills and asking him to smile vacantly at everyone. This is what Bollywood, bred on a diet of melodramatic histrionics, calls 'subtle.'
No, his problem is peculiar. A shy, silent orphan named Soham, he's a bit overwhelmed by the unashamedly frank proposal come his way from the overenthused Shwetambari (Urmila). The randy little rich girl is thrilled about Soham's music classes, and singing is clearly not foremost in her thoughts. But, Soham asks himself, is this right?
He needs higher counseling, so he sits by a picturesque white beach, closes his eyes and meditates. Sure enough, God gallops to the rescue. Naseeruddin Shah, ubiquitously called 'Babaji', rides forth on a white horse and dispenses vague advice with a grin. His conflicting emotions placated, Ashmit and Urmila merrily embark on an inter-caste relationship that bothers some Banaras folk.
Daft? Yes, extremely, which is why the couple also justifiably irks the audience, who couldn't care less about caste. The film opens with a wealthy Banaras household, with Raj Babbar on his deathbed and Dimple Kapadia despairingly looking on. The man asks for a message to be sent to his daughter, whom he hasn't seen for 16 years. We cut briskly to the daughter, who has become an ambiguous god-woman in Mauritius, dispensing relatively obvious advice with a sage-like expression. And then follows the inevitable flashback.
The question is, what do you expect from Banaras? A love story? Check. Nice backdrops of an undeniably breathtaking city? Of course. Parent-daughter melodrama? Yup. A well-shot Holi song? All right, there you go. But if you went, like me, misled by the promos and conversations, expecting metaphysical excursions into philosophy and something deeper than average, well, you really might be hoping for too much.
First things first, the movie begins on an extremely cardboard note. The characters seem too basic, and the almost universally wooden acting doesn't enliven them much. It all begins ponderously, and while there is an obvious attempt to lend the production an air of theatricality, extremely clunkish dialogue bogs it down further. The pace drags wearily on, and much of the film seems shockingly, disappointingly amateurish, from the acting to sudden jumps in editing and framing.
The cast, while impressive on paper, isn't given a lively enough script to really inhabit, which is why most of them seem to walk through their performances. Ashmit Patel, for all our badmouthing of the youngest actor in this production, has stayed relatively free of blemishes, performing his insubstantial part adequately. Raj Babbar, surprisingly, delivers perhaps the best role in the house, nicely playing the proud, arrogant patriarch devoted to his daughter. Akash Khurana, a fine actor, does well as the doctor, but is handicapped by inadvertently funny dialogues.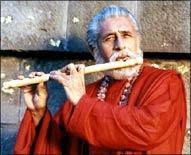 Naseer is convincing (but entirely unsurprising) as the wise Godman, but then he could have played the part in his sleep. The pivotal characters are mother and daughter, and this is where things have gone crucially wrong. Dimple has been trying to mount a comeback for a while now, but this (like Pyaar Mein Twist or Being Cyrus) is not the film to give her that breakthrough. The actress manages a couple of scenes admirably, but flounders completely as the film stretches on, robbing the final scenes of all credibility.
And then there's Urmila. Let's start with the good. She looks great, refreshingly beautiful and striking. That's about it. This is an actress who has worked hard to earn respectability, but this role, like the film itself, suffers from inconsistency. She goes from giggling college-girl to platform-heel wearing 'Maa' with a suddenly scary (she can't lay off the spooky feel, alas) seemingly drunk chick in between. Her character shifts from smitten to scornful, hysterical to omniscient, with blink-of-an-eye rapidity, and none of the transitions are convincing. Also, she shouldn't speak English, as is evidenced by a variety of bewildering accents and constantly stumbling over saying 'theoretical' thrice in the same sentence.
The first half of Banaras is really predictable, with every couple of scenes punctuated by a forgettable Himesh Reshammiya track. Even if any of the songs might have sounded okay, they end up plastered too close together to register. And there really is no elucidation shed onto Banaras – we are told of places where the Buddha prayed, and where Tulsidas wrote the Ramayana – but the philosophy Babaji spouts seems blindingly entry-level, basic stuff.
The second half admittedly sets us up for a surprise or two, but things get increasingly preposterous. Urmila goes insane, the parents worry, a doctor with a face mask is brought in to help things along. But this, we're told, is Banaras, the land of miracles and mysticism, and its citizens evidently don't need pinches of salt to swallow massive, faith-shaking facts. We, on the other hand, do, and resultantly sit through the plodding production trying to read between lines that aren't there.
Banaras may well be the centre of our spiritual universe, but this film does not explore it enough.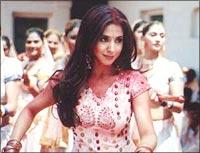 Banaras does impress visually though, using a softer tone to tell its story instead of the shadowy slickness we are so used to. The colours are realistic, not vivid, and the almost orange-tinted screen mesmerises us as we constantly look through the characters to the fascinating backdrop of the holy city. This is truly a very pretty film, a fact that pushes it into two-star territory.
Perhaps there is a deeper layer to Banaras. Perhaps there's more to the metaphysical discussion than the 15 seconds devoted to the mad physics professor. Perhaps the obvious mysticism is just sheen, and there's a lot to decipher and grapple with beneath the surface. Perhaps it does hold, as the posters proclaim, a truth that will change our lives.
Perhaps. But I didn't get it.
(If any of you do, please write in and explain. Thanks, tremendously.)
Rediff rating:

Want to see this movie? Check out Rediff Movie Tickets!



What do you think about the story?








Read what others have to say:





Number of User Comments: 22








Sub: Boat :)

Boat : Obviously the analogy seems to be lost, Jiski Rahe Bhavna Jaise Usko Dekhe Bhagwan waise. as did for all who saw the movie ...


Posted by Swana









Sub: BANARAS- A hindu, wholesome movie!

Bravo! I am elated that bollywood, with its penchant to make the mundane fantantic, has now attempted to bring the fantastic (read mysticism) closer to ...


Posted by prash









Sub: Spirituality ain't a boat

I wonder what people have got against Mr. Sen. He has merely pointed out what he felt regarding the movie and specifically ends with the ...


Posted by Debroop Sarkar









Sub: AWESOME MOVIE

The film can be a source of spritual satisfaction for those who love spirituality and mysticism. At the same time it may be torturous for ...


Posted by Anand









Sub: Open you mind

The movie expounds the existential theme. There is more meaning in the layers of mysticism surrounding the film. The more one penetrates these layers, the ...


Posted by Anil






Disclaimer