Home > Movies > Interviews

The Rediff Interview / Anurag Basu

Could Gangster be another Murder?

April 05, 2006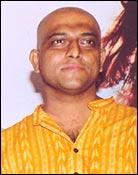 Anurag Basu made waves with his film, Murder, which catapulted its heroine Mallika Sherawat to stardom.
But luck was not completely on his side. Halfway through his next film, Tumsa Nahin Dekha, he was diagnosed with cancer. He didn't lose hope though, and even shot parts of the film from his hospital bed.
Now, the director is back with his next. Gangster stars Mahesh Bhatt's favourite star Emraan Hashmi, Shiny Ahuja and newcomer Kangna. It promises to be controversial as it is apparently about Abu Salem's romance with Monica Bedi. The director tells Priyanka Jain more about it.
Music review: Gangster is groovy
| | |
| --- | --- |
| | More on rediff.com! |
| | |
How did the idea of Gangster come about?

I was bouncing ideas off Mukesh Bhatt and Mahesh Bhatt for a new project. Abu Salem had been nabbed around that time and it was the talk of the town. It was one of the ideas we discussed and it clicked. I wrote the screenplay, which has references from real life in terms of inspiration, and it shaped out pretty well. However, all characters are fictional. There is no resemblance to Salem's real life.

What is the film about?

It is about a woman with normal dreams of a home, family and children. Although it is titled Gangster, the story has nothing to do with any underworld drama. There is no villain. Everybody goes through emotional turmoil in the film. It's a story about human emotions, love, passion and betrayal.

Emraan plays the character of Aakaash, who is working in Seoul when he falls in love with Kangna. He doesn't know about her involvement with a gangster though. Shiney Ahuja plays the gangster. His character, Daya, loves Kangna, but can't fulfil her dream.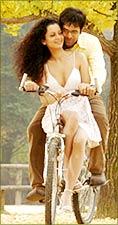 I found Kangna at a coffee shop. I was looking for a girl who didn't have streaked hair and long nails. She fit the role very well and I am lucky to have found her. She was absolutely raw and had never faced the camera before. I trained her. She was playing a drunk for half the film, which is difficult, but she did it very well.
Parts of the film were shot in Korea. What were the challenges you faced there?
We had major language problems, as they don't even speak English there. So, when my cameraman would tell the technicians to tilt the lights down, they would tilt them up. We had to rely on sign language. We were like aliens for them – a bunch of Indian guys walking down the streets of Korea trying to shoot a song. Being an Asian country, however, the sensibilities and value are the same, so there was a connection.
Tell us something about the location.
For the song Lamha Lamha, which has an erotic lovemaking scene, we were looking for a wild background. It was the fall season, and the trees were yellow and orange. When Mukesh and I went to Nami Island, it was uninhabited. But the day we were to shoot was a local holiday and the place was full. It was embarrassing to shoot in front of all of them. Emraan refused to remove his T-shirt. We all were shy but, somehow, we managed.
What about the weather?
It was very cold. The temperature was often below zero. There is a part in the film where Kangna has to walk down the street wearing just a suede shirt. We shot those scenes early one morning, and it was tough for her.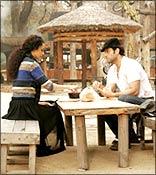 You were hospitalised, yet to managed to direct a film...
It's willpower. Murder was a big hit and I was riding high on its success. I was getting many offers and wanted to shoot more films. When I found out I had cancer, I had to take a break for a year and a half. I was taken to hospital in the middle of the shooting schedule of Tumsa Nahi Dekha. We could not cancel shooting as there were deadlines. The movie was up for release in September, and I didn't want my producers to suffer. For about ten days, Mohit Suri helped me. I used to give instructions on a dictaphone, talking about the camera angle and script. Mahesh Bhatt and Mohit finished the film later.
At present, I am undergoing medication but I am back at work. It keeps me going. My schedule is as hectic as ever. After chemotherapy, if I go home and rest, there are more side effects. Thankfully, my family and unit members don't make me feel as if I am suffering from a disease. They treat the illness like any cough, cold or fever.


What do you think about the story?








Read what others have to say:





Number of User Comments: 5








Sub: wonderful film

ohh de film is absolutely ammmazin!!! its terrific..all de 3 actors hav done a tremendous job...hats off to anurag basu fer makin such a wonderful ...


Posted by sania









Sub: Yes it will be super hit for SURE

Songs are as rocking as murder one's were. New girl looked also so good. It will be super hit like murder for sure.


Posted by apnabusiness









Sub: Could Gangster be another Murder

yes......it's a sure hit....songs are really good....KK is rocking......and relief from Himesh Reshamaia for all of us.....


Posted by Latheesh









Sub: hope it will be another ''murder.''

Hats off to him . Hope he will make a good film like "murder". He is a brave man indeed.


Posted by dipanwita









Sub: Fabulous Movie

The director is back with his own style. its a fabulous movie by anurag basu,he is a very talented director,the people who didn't trusted him ...


Posted by amitabh






Disclaimer