Home > Movies > Reviews

Rain: The worst movie ever!

Patcy N | September 30, 2005 18:19 IST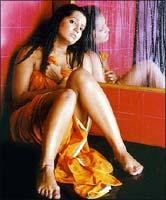 After I stepped out of a theatre screening Meghna Naidu's skin flick, Rain, three men asked me -- unfortunate enough to be one of the four women (and the only one without a companion) in the hall -- for a lift. That may tell you what kind of movie it is.
Thanks to my work, I have watched many bad movies. But Rain is definitely the worst I have ever seen.
The film starts with Sandhya Bhatnagar (Meghna Naidu) in a bathtub, legs in the air. She's supposed to be blind, and a very accomplished author. Her telephone rings and the caller, journalist Prakash (Himanshu Mallik), wants to interview her.
Now, Sandhya seems to be the paranoid sort. Alone in her bungalow, she keeps knives under the sofa, tables and racks and pistols in bookshelves and kitchen for her security.
Meghna Naidu: I can act well too!
And Prakash, the 'journalist', has a novel way of asking questions -- he always asks his questions at knife-point.
During the interview, he learns that she has rain-phobia. So he turns psychiatrist. And takes her to the bathroom! He sings the nursery rhyme Rain rain go away. That's his 'treatment'.
Apparently, she was raped on a rainy night, orchestrated by her stepfather. But her stepfather died during the police interrogation that followed. And while she does not know who raped her, Sandhya got pregnant.
Later, she was told that a certain Avinash wants to marry her and accept her unborn child. But he had a condition: He would not meet her until she delivered the baby. Unfortunately, she delivered a stillborn. And Avinash vanished.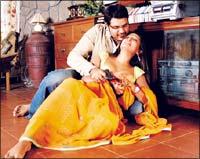 She narrates the story of her life to Prakash and he asks her to start her life afresh. Romance blossoms between the two, and they kiss. And that's when she knows. Her rapist had kissed her the same way!
Prakash admits he was the rapist. And here's why he did it: He wanted a child so he could prove to his wife he was not impotent! And he was Avinash all along.
Now, he wants a child from her (the first one died, remember?) and requests her for the same!
So who is Prakash -- a journalist, psychiatrist, rapist or Avinash? Take my advice, and don't bother finding out.
Rain is a just another pathetic skin flick. Meghna's sari's palu keeps sliding off her to reveal her ample cleavage. Side effects of being blind?
When the film starts, Meghna keeps blinking her eyes to prove she is blind. Later, she keeps looking the other way whenever Prakash talks to her. Another question: How come an author is such a sharpshooter? Even though Sandhya is blind, her bullet zips past Prakash's ear with perfect accuracy.
Also, Sandhya apprently knows her house very well and has no problem moving around. Yet, towards the end, she keeps stumbling and falling.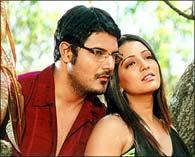 Besides, though she always wears a sari, her dream sequences (and there are quite a few) always see her in transparent and tiny outfits.
And Himanshu, were you trying to pull off an Irrfan? But you got it so wrong! Irrfan (a brilliant actor) knows his job very well. He rarely raises his voice, but you were doing it constantly. And maybe it's time you went to the gym and lost those tyres.
Amol Shetge's (who directed the flop Gunaah) film is like those films usually titled Haseena Ka badla and Tadapti Jawani.
Don't make the mistake of watching this terrible excuse for a film. Hopefully, then directors will not make such kind of movies again.
Want to see this movie? Check out Rediff Movie Tickets!


What do you think about the story?








Read what others have to say:





Number of User Comments: 4








Sub: Aaaah!

U ought to be stupid to understand the plot orelse u will loose yours mental balance


Posted by akhil









Sub: rain in mumbai

ha ha ha...the review made me laugh like crazy..but frankly speaking, the film critic was to navie if she expected something better than that..himanshu malick ...


Posted by preeti









Sub: I totally agree.

All those upcoming directors who want to know how a movie should 'NOT' be made must go and watch this flick. The money that was ...


Posted by Praveen









Sub: rain

reading the first sentence left me laughing for a long time.


Posted by manju






Disclaimer