Home > Movies > Reviews

Avoid Kasak, get Lucky

September 30, 2005 17:53 IST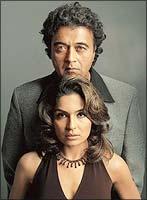 Dear Lucky Ali,

I can't help dashing off this letter to you. I am just back from the first show of Kasak and am shocked. (Or 'shogged' as your heroine Meera would have pronounced it) I have known you and your songs, and somewhat liked you as a singer/performer.

I watched my sister adoring your king-size poster after the Kaho Na... Pyar Hai wave and was instantly curious. Who on earth gave you the idea that you should act in films and that you should choose something as outrageous (for want of a better word) as Kasak?

(Honestly) I have never been a great fan of your kind of music. Yet, I wasn't completely immune to your boyish charm or your 'earth-shattering' Ek pal ka jeena and Na tum jaano na hum. Those were days of dreams, and, as we all know, dreams don't last. As a professional, you must take success and failure in your stride and must not posture in front of the camera when you should be exercising your vocal chords instead.
| | |
| --- | --- |
| | More on rediff.com ! |
| | |
Is director Rajiv Babbar completely out of his mind? How dare he play with Krzysztof Kieslowski's White, one of the best from the master, and give it treatment that would have certainly made the late Polish filmmaker give up his profession?
As I watched you play Amar the nurse (the Babbar version of Kieslowski's hairdresser), hopelessly in love with schematic and mercenary Anjali aka Meera, I kept on wondering if you had forgotten all about the Filmfare Award that Na tum jaano na hum had fetched you. Had you?
For a moment I thought a similar accolade for acting was what you had in mind. But if Kasak be the yardstick, you still have miles and miles to go, Mr Ali. Also, if you are seriously interested in trying your luck on screen, you must steer clear of your Pakistani colleague. For, I am sure you realise that acting is certainly not Meera's forte (she could choose sleazy modelling assignments though) and neither is dialogue delivery.
If she pronounces important as 'importeent' and romantic as `rumaantic', she is certainly not the type the multiplex-hopping urban audience would like to see (oops, hear). As for her often-visible cleavage, 'sexy' swagger and supposedly seductive kisses, Bollywood's own Mallika Sherawat is sure to give her a run for her money. Meera would do Hindi filmdom a great service by simply stepping aside.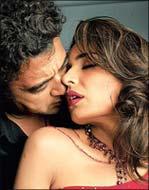 Also, please tell Kasak's director not to underestimate the audience so much as to try and sell a rudderless plot riding on an adult tagline. It is time Babbar knew that while the noon show of the five-week-old Iqbal was running to a full house, the first show of his film had only four takers (including this unfortunate reviewer).
It is time you realised filmmaking is serious business, not an amateur's attempt at understanding how the camera functions. We don't want another Kasak, for god's sake!
Please pardon me for spewing so much venom here. I just can't get over the futility of having wasted two precious hours watching your disaster of a film.
Keep well (and stay away from films, if possible).
With regards,
Indrani Roy Mitra
Want to see this movie? Check out Rediff Movie Tickets!


What do you think about the story?








Read what others have to say:





Number of User Comments: 11








Sub: nonsense review

Hey i failed understand is it a personal hate letter to lucky ali or a film review. Though i read the so called review i ...


Posted by pb









Sub: re

What kind of review is this??we are not intereseted whether you like his singning or not??we are interested abt the moovie..pls dont review anything on ...


Posted by ss









Sub: is this a review?

no seriously..is this a review????? I mean doesnt say one word about story, performance, plot..nothing!!!! This movie may be crappy one, but so does the ...


Posted by Shyam









Sub: View

What will he do if he does not act? Sing? Well, although I like his kind of music (and lyrics, if I may add), I ...


Posted by Kaushik das









Sub: this is what i hate abt rediff reviews.

maybe the movie was really bad, but can anyone tell me wat kind of a review was that? i mean havent we had enough of ...


Posted by rahul






Disclaimer