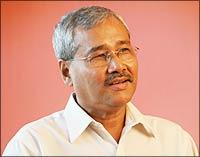 After winning nine National Awards, Assamese director Jahnu Barua attempts his first Hindi film, Maine Gandhi Ko Nahin Maara.
The film, starring Urmila Matondkar [Images] and Anupam Kher [Images], is about an old professor who thinks he has killed Mahatma Gandhi [Images]. While he totters on the brink of insanity, his daughter tries to bring him out of this illusion.
When asked whether people would be interested in watching films on Gandhian ideals in today's day and age, Barua replied, "There is an honest attempt to convey something. I am not trying to cheat the audience. As a filmmaker, I have a social responsibility. I want my audience to gain something from my films."
Barua spoke to Syed Firdaus Ashraf about his new film that hit theatres on September 30, two days before Gandhiji's birth anniversary on October 2.
You talk of Gandhian values and non-violence in your film at a time when many in our country have forgotten him.
I have analysed this issue very seriously. I come from Assam, and I would say that more than 80 per cent of violence (there) is unnecessary. It can be avoided if we organise things in a disciplined way. The solution for many problems we face today, like extremism, is there in Gandhian values. What has gone wrong is that we have failed miserably in transforming Gandhian values to society.
| | |
| --- | --- |
| | More on rediff.com ! |
| | |
For example, in Assam, there are abundant natural resources like forests, oil and tea. In my school or college, I never read about it. Had I read about it I would have found my future career in those resources. Who is to be blamed? The system. That is exactly where we can connect to Gandhiji. You can relate to the charkha and you can create out of your own resources. That is not happening today. There is a lot of talent in the Northeast but they only dream of America. And you cannot blame the younger generation. Today, when you think of Gandhiji, you think only of singing bhajans. That is wrong. Today, if Gandhiji was alive, charkha could have been a computer.

 

But there is a view that Gandhiji's charkha was leading us away from mass production in an industrial age. In fact, it was taking India backwards from industrialisation, wasn't it?

 

Wrong. No one can come up with this kind of statement. The charkha was symbolic. We need to transfer that into modern things. One can become a superpower by using the charkha. If there is no sugar in your house only then you can think of importing, but today we have things in our own house but we still import. This is wrong. You see the Dandi March, why did he do it? He did it because he wanted to say that the salt is ours. That was a symbol of protest.

 

But Gandhi's own movements failed in his time, right? He withdrew the Non-Cooperation Moovement, which was a failure. After that, the Dandi March didn't go anywhere, and then came the Quit India movement which was launched at the wrong time, when the British were in the midst of World War II against the Nazis. In hindsight, don't you think it was wrong for Gandhiji to launch those movements?

 

This is because you are analysing it today. In any movement, there will be flaws. Gandhiji didn't commit mistakes intentionally. He was doing it because he was in favour of the freedom struggle. Things go wrong in life but you keep on trying, don't you? This happens in everyone's life.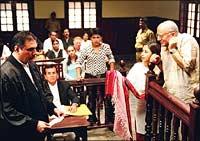 Gautam Buddha's life was also flawed, in a way. He left his wife and child when they needed him. But we don't remember him for that; we remember what he did to society at large. That part of his life is forgotten. This kind of analysis is not to be judged. If we start analysing, then you can find flaw everywhere, and in everyone.
Why has Anupam Kher been made to look like Gandhiji in your film?
No, it is not Gandhiji's look. He has a professor's look. It is only because the film title is associated with Gandhiji's name, you are thinking that way.
Was it difficult to convince Kher to put money in your film?
No, in fact it was the other way round. It was a shock for me when he said he would produce the film. I was very touched by that. NFDC [National Film Development Corporation] didn't have the money, but he [Kher] said this film should be made. I had almost forgotten about this project. He raised the money. It is the belief in the subject, that also coming from the actor, which is very rare. Yash Raj films is distributing the film and Yashji believing in the subject -- that itself was great for me.
What do you think of the Hindi film industry before and after the making of this film?
After, I cannot say because it is too early. But before I started, I was very nervous. I was expecting a lot of problems, but the production went off very smoothly. It is amazing that we finished within schedule. Everyone was disciplined and there was no problem anywhere. Anupamji and everyone were very cooperative while making the film.
Why do you think must young people see this film?
There is an honest attempt to convey something. I am not trying to cheat the audience. I know how to exploit the weakness of audience. I can provide drugs to the audience through my films. I can easily do that, but I am not. As a filmmaker, I believe that I have some social responsibility and want my audience to gain something from my films. Maybe the number of audience is less, compared to a commercial film, but I want my audiences to learn from my films. If they miss this film, they will surely miss something in their lives. Also, if they feel that this film is arty-farty, then they are wrong. This is a wrong notion in our country. Directors like me suffer a lot because of this. Common people enjoy my films and I feel sad that I have got this tag of 'art film director.'
Do you think people don't like sensitive films in our country?
They want to see sensitive films. After all, they are human beings. But the commercial films have been exploiting their weakness. For example in commercial cinema, till 10 years ago, there was no 'item number.' How has this phenomenon come? Does an item number have anything to do with the story except that it is a visual drug? Item numbers are just like selling drugs to boys outside their hostels.
We are not concentrating on good commercial films. Out of 900 films, we make more than 90 per cent flops. We only talk about the 10 per cent of the films that are hits. Ninety per cent of films flop because they are not made with good intention.
How much do people respect the writer in our industry? In public too, they are not respected. The writer in the industry is the last person to be paid. Sometimes he does not get paid at all. How can you get a good story if you treat a writer so badly and with such disrespect?
Which is the last successful film that you personally liked?
There are good signs in this regard and this is the initial stage. My kind of film cannot be a superhit, but can be an average hit. Like Iqbal. Does the film have an item number? No. The filmmaker is respecting things that need to be concentrated on.
What has been achieved by non-violence anywhere in the world, except India?
Non-violence has been a big force all over the world. Whether we respect it or not, it is a solution for all kinds of problems. People at the helm of affairs are interested only in their selfish motives. For example, can the Iraq war be justified? It could have been solved by non-violence. You are using violence to solve the problem, and that itself is the problem.
Today we are in a situation where violence is not solving any problem. Therefore we all should be grateful to Gandhiji because he used non-violence to achieve Independence. Had we not used his methods, we could have not got Independence at that time.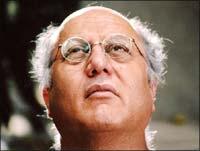 In his life, Gandhiji was hated by communists, the Muslim League, right wing Hindu parties and socialists. Why was he so disliked by every other group striving for Independence?
He and his ideology always provoked. His ideology provoked the other's party ideology. If you have a different ideology, you will clash with him. His ideology was so strong that you could not take him on. Moreover, he believed in non-violence and he didn't attack others, so he was attacked all the time.
One thing is that only Dr B R Ambedkar's philosophy is going strong today and not any other leaders of that time -- be it Gandhiji, Nehru, socialists or communists. People don't get moved by their thoughts today, unlike Dr Ambedkar's followers. Why is this so?
Dr Ambedkar was always at the receiving end. At the same time, people at the helm of affairs cannot do without Dr Ambedkar and therefore he is alive. It is not that people are interested in his ideology. He is kept alive because their leaders need an icon.