September 29, 2005 15:18 IST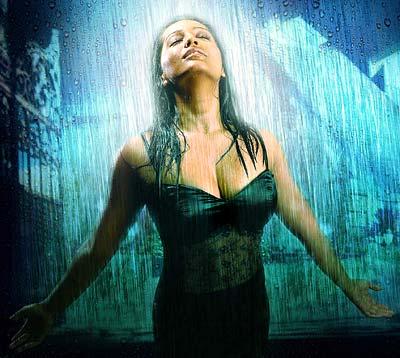 Meghna Naidu is still better known as the Kaliyon ka chaman girl, though she has featured in a couple of films.
This Friday, her new film, Rain, hits the theatres. Meghna plays a blind girl, and stars opposite Himanshu Malik.
She talks to A Ganesh Nadar about her film:
I have a lot of expectations from Rain. But then, we have a lot of expectations from all our movies.
Rain is special because 95 per cent of the movie shows Himanshu and me. So we had to do a good job to carry the movie.
The characters are very strong. One of my closest friends is visually challenged and she arranged workshops for me, so that I understand better what it means to be blind.
The songs are woven into the movie. There is no daydreaming, or starting a song on a tangent. The title song will go down well with the audience.
People still call me [because of the music video she featured in] the Kaliyon ka chaman girl. I hope to change that with this movie. Also, I know that I am known for a certain image. This movie will show that I can act well too.
I am shooting for two Tamil films in Chennai. One is directed by K S Ravikumar and also stars Jyotika. The other is called Veerasamy.