Home > Movies > First Look

Don't go, Bollywood tells Chitrangda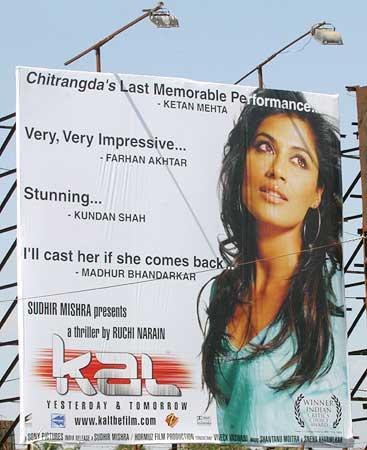 Chitrangda Singh arrived on the Bollywood landscape with a bang.
Her debut film, Sudhir Mishra's Hazaaron Khwaishein Aisi, got rave reviews from the critics, and the world was unanimously bowled over by this brand new leading lady.
Not just is Chitrangda a stunner, but her histrionics led to great applause from all corners. Director Ketan Mehta went as far as christening the actress 'the next Smita Patil.'
But even as first-time filmmaker (HKA first assistant) Ruchi Narain promoted her new film, Kal: Yesterday And Tomorrow, Chitrangda vanished.
The actress seems to have suddenly quit cinema, an inexplicable move that is being linked to her need to spend time and support her husband, golf star Jyoti Randhawa on the gruelling tour.
Domestic responsibilities may have robbed Indian cinema of one of its finest new finds, but this billboard, by the side of Mumbai's famed Juhu beach, allowed a few directors to eulogise the actress.
The Kal hoarding is all about Chitrangda, barely mentioning the film, even as it struggles to retain position in theatres.
A truly unique goodbye.
Photograph: Jewella C Miranda


What do you think about the story?








Read what others have to say:





Number of User Comments: 3








Sub: let her decide.. what she wants from life....

life is always a roller coasteride,,,u never know what happns nxt alwys... Things come nd things go.. but if u stay bck thse things become ...


Posted by nandy









Sub: Don't go Chitrangda

It is really sad to know that she will not be seen on the screen anymore. Just when she had come into her own as ...


Posted by Kirat.Mehta









Sub: Farewell Chitrangada

I'm sure Chitrangada Sigh had her own set of priorities to quit all the lime light of Bollywood. Though to call her the next Smita ...


Posted by pragya






Disclaimer