Advertisement
September 26, 2005 15:00 IST
Last Updated: September 26, 2005 15:53 IST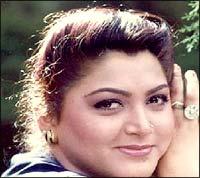 Political parties and a few among the film fraternity in Tamil Nadu have taken offence at South Indian actress Khushboo's remarks on premarital sex and have demanded an apology from the Mumbai-born actress. Volunteers of the Dalit Panthers of India stormed the office of the South India Film Artistes' Association in Chennai yesterday, carrying brooms and slippers, and demanded an apology from the actress. Police have arrested some of the partymen.
Another political outfit, the Pattali Makkal Katchi (PMK), has said it will protest outside the house of the actress.
Khushboo had reportedly given an interview to a magazine in which she had said it was fine for girls to indulge in pre-marital sex after taking precautions to keep unwanted pregnancy and sexually transmitted diseases at bay. Later, she justified her statement by saying no educated man could expect his partner to be a virgin.
Reacting to this, the political outfits and a few actors said that the statement of the actress went against the Tamil culture and values. However, the actress was supported by some of her colleagues in the industry who said she was only airing her views about taking measures to prevent diseases. About a 100 'casual artistes' gathered in the South Indian Film Artistes' Association premises to back the actress. They also demanded action against partymen who had stormed it.
Taken aback by the outcry, Kushboo has tendered an open apology to Tamils, especially women, saying she would never dream of sullying the image of the Tamil people. Cutting short her visit to Singapore, she has returned. 'Even in films, I never undertook roles that lowered the image of women,' she has said, in a statement. 'I have the greatest regard for Tamils, especially Tamil women. If my remarks have hurt anybody's feelings, I tender an apology. I am one among you and will always remain with you.'
Meanwhile,a defamation suit has been filed today in a city metropolitan magistrate's court under Sec 499 and 500 of the IPC (punishment for defamation) against the actress. An effigy was also burnt in Salem city.
In a similar incident, Thankar Bachan, film director and producer, recently had to face the wrath of actresses including Khushboo for saying that, 'women who acted mainly for money are akin to prostitutes.' He later had to apologise, although Khushboo was, reportedly, not pacified.
© Copyright 2008 PTI. All rights reserved. Republication or redistribution of PTI content, including by framing or similar means, is expressly prohibited without the prior written consent.