Advertisement
September 23, 2005 18:17 IST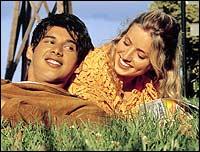 One fine day, you wake up, and are hit by this brilliant wave to launch the apple of your eye in the movies. Doting daddy (Romesh Sharma) that you are, you go through all the trouble of writing, directing and producing it.

But the story doesn't have anything new to offer. It is about a boy (Karan Sharma as Jai) and girl (Annabelle Wallace as Sophie) who fall in love and face parental opposition.

Now that is something even the filmmaker knows the audience has been subjected to relentlessly. So, why? Because he has credibility on his side. After all, he has produced the hit Hum, and directed films like Aetbaar and the popular television serial, Ajnabee [Images].

So what does daddy dear do now? He decides to make the girl English. An Indo-Brit romance sounds cool now, doesn't it? He makes them study abroad. And not just anywhere, but in the majestic city of Stockholm, Sweden. Next, he ensures the script has both his lead protagonists originally hailing from the country of sun, sand and beaches -- Mauritius. Cinematographer Binod Pradhan does full justice to the beauty of both countries.

Nice! But something is still missing.

Stars? Stars!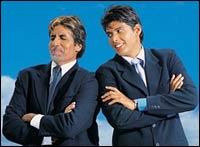 Enter Plan B, which is the Big B [Images] himself. Amitabh Bachchan [Images] as Jai's pampering 'Pa' and Revathy as his traditionalist Mom complete the family portrait. And, just in case things go wrong between the boy and his English lass, which they invariably will, there is further backup in the form of a beautiful doctor with a golden heart (Bhumika Chawla).

Who's the bad guy? Sophie's bull-faced father, Norman Besson (Malcolm Doddard). The man flaunts his surname in true 'Rajgad ke Thakur' ishtyle and suffers from the 'English are masters, Indians are slaves' mentality.

In trying to set up a lavish debut for his son, Sharma forgets that the dressing alone does not make a dish. So, while embellishments get the thumbs up, the original fabric is lacklustre.

The story tries to drive home the message of Indian values in a dated manner. Also, some qualities of the protagonists make them look plain foolish. Like the scene where Jai and Sophie spite their respective parents by organising a surprise dinner. Instead of warming up their parents with the idea of each other, they just throw it in their faces. There's more. Immediately after graduating, all Jai and Sophie can think of is tying the knot. No one finds a job. Surely kids who go abroad for further studies must be motivated enough to pursue a career?

Karan Sharma and Annabelle Wallace share a dry chemistry. The scenes that lead to their coming together are typically hackneyed. First they quarrel, then they make up, followed by the resistance vs persistence game, so on and so forth.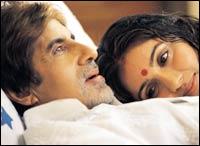 Newcomer Karan Sharma appears very camera conscious. His screen presence is hopelessly awkward. His gawkiness stands out even more when the dynamic Bachchan shares screen space. In the song, Mere Munna (composed by Shankar-Ehsaan-Loy, who deliver an average soundtrack but score a lilting background theme) featuring the duo, Big B is liveliness personified as opposed to the seemingly dehydrated Karan.

Wallace, who bears a passing resemblance to Perizaad Zorabian [Images], fares much better. Although her histrionic skills are so-so, there is something likeable about her demure disposition.

As for AB, he isn't a superstar for nothing. His portrayal of an affectionate father is lined with warmth and spirit. This tenderness, along with his indisputable charisma, is commendable. It is the film's strength. Trust Revathy to wonderfully capture a nag, a conservative and a protective mother -- all in one performance. And, even though her role is relatively brief, Bhumika Chawla is spontaneous and endearing.

At the end of it, Dil Jo Bhi Kahey is just another love story. It neither introduces inspiring talent, nor has mush to sell.