Home > Movies > First Look

The world of Shah Rukh Khan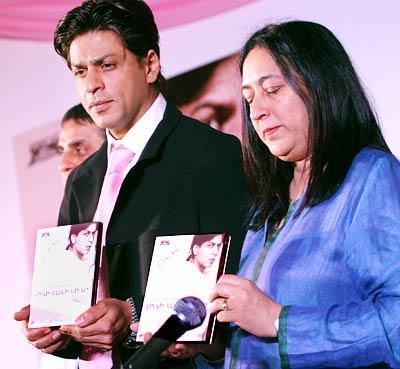 How does Shah Rukh Khan juggle his professional and personal life so adeptly? Does he bring up his children according to Hindu customs or do they follow Muslim mores? What makes him a superstar?

The answers to all this and more will be available on a documentary made on SRK's life. It is called The Inner World and the Outer World of Shah Rukh Khan and is directed by the British-based author and director Nasreen Munni Kabir (left), who is considered an authority on Hindi cinema. The DVD, launched by Eros Entertainment group, will be released October 4 and is priced at £ 10 abroad. The pricing for this DVD in India has not yet been decided.

Nasreen, who has made more than 80 documentaries on film personalities -- like Amitabh Bachchan, Shammi Kapoor and Guru Dutt -- says, "I have never met a person who lives for the moment. Shah Rukh is one of them. When he is with his son, he is the perfect father. When he is with his friends, he is the perfect friend. When he is with Gauri [his wife], he is the perfect husband." 
She made another documentary on SRK earlier, for a British television channel.

Would a biopic DVD on SRK be snapped up? Says Nasreen, "I am sure this will sell like hot cakes. It will be a collector's item. There are many things about him which people would want to know. They will [find out] after watching this DVD. For example, Shah Rukh believes in both the Hindu and Muslim gods. The Koran is placed next to idols of Ganesh and Lakshmi in his [home]. He is a secular person. I have highlighted all this in the documentary." 

Shah Rukh who was present at the press conference to announce the release of the DVD in Mumbai. He says, "My life is like any other person's life. I am just a normal person like anyone else and lead a very normal life."

The documentary takes viewers to New Delhi where Shah Rukh spent his early life and also to different cities of the world where he has performed for his signature Temptation stage shows.

"The documentary is not [made] in MTV style. It has more than that. It will have a longer and lasting value for the people who buy it," Nasreen says.
She added that Shah Rukh trusted her implicitly during the making of the film and never asked her to change any portion of her documentary.
Text: Syed Firdaus Ashraf | Photograph: Jewella C Miranda


What do you think about the story?








Read what others have to say:





Number of User Comments: 60








Sub: shahrukh shahrukh n only shahrukh...........

i dnt knw wat 2 say abt shahrukh khan....each n movie of srk is my favriote movie....wat ever he wear wat ever he speaks i ...


Posted by akram









Sub: pls post biography of sharukh khan

hi dear rediff staff. i just want to know sharukh's biography pls send for us we want keep his bio.. we are awaitin of ur ...


Posted by a s khan









Sub: Som1 needs ur help not ur achievements

Hi!!! It is a gud step taken towards..earning money..gettin busyness..but whats da use??? Will it help our society in any sense... SRK no doubt is ...


Posted by Sadaf









Sub: srk/documentary

i met srk in ny last week. he was as nice as could be and very patient with his fans. i am an american in ...


Posted by leslee









Sub: hey

yO sHaRuKh yOu aRe tHe bEsT....


Posted by samarth panchal






Disclaimer