Home > Movies > Reviews

Amrithdhare: A must watch!

Lata Jha | September 19, 2005 16:54 IST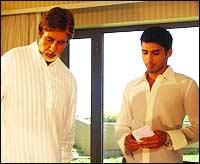 Three days of meaningful living is worth many lifetimes of meaningless existence: The message put forward by Amitabh Bachchan in his flash appearance towards the end of Kannada film Amrithdhare, is also the dictum that underscores this heart-tugging marital drama.
Outwardly, the language of Amrithdhare is regional. But it communicates ideas on love, loyalty, marriage and companionship with such passion that, beyond a point, the spoken language becomes the least consequential component in writer-director Nagathihalli Chandrashekhar's new film.
The story of a newly married couple Puru (Dhyaan) and Amritha (Ramya), who prefer to behave as though their togetherness is a never-ending courtship, is punctuated by bouts of heartwarming humour and absolutely crackling chemistry between the two who love each other to death -- Amritha's death, as it happens to be.
The narrative is well-informed and the language of love has never seemed more desirable. While the director has written his scenes with utmost regard for the pitch and momentum of the bonding, he has also made sure the romantic overture flows with easy grace. It doesn't take us long to become part of Puru and Amritha's beautiful marriage.
By the time Amritha's terminal illness surfaces, the film's end-game begins to seem like the final moments of a skillfully written opera. Dhyaan's heartbreaking attempts to keep impending tragedy away from his wife is so real, your heart simply melts. The actor brings a kind of vulnerable grace to screen heroism. 
Ramya is right up there with Dhyaan, giving his yin a yummy yang. The ball-and-socket impact of the couple is ably supported by the writer-director's vision of a world where love is the true healer. Chandrashekhar takes the couple's togetherness to the threshold of unspoken tragedy, then decides to end on a note of hope.
We don't see Amritha dying. She just fades out of our sight before the beautifully photographed (Krishna Kumar) Taj Mahal, to remind us that Shah Jehan and Mumtaz weren't the only two people who loved each other as much.
Want to see this movie? Check out Rediff Movie Tickets!


What do you think about the story?








Read what others have to say:





Number of User Comments: 21








Sub: Wonderful Movie!!!!

Every one has to see this Movie. Realy it was so good that you forgot all your depressions enjoy this movie completely. We can't expect ...


Posted by Prema.L









Sub: Excellent!!!!!

just go & watch it


Posted by navin









Sub: hi

story is very good.each n every one have to see this movie.RAMYA is so good.frankly speaking ,i was hating ramya.cos she scolded rashitha.i am fan ...


Posted by sandeep









Sub: Great Movie

Wonderful Movie. Hats off to Mr. Nagathihalli.


Posted by Dilip









Sub: VERY GOOD MOVIE

Dear Frnds I saw this Amrthadhare first day..itself... it's really very pleasent movie... every one shoudl watch this kind of movies... music and phtography is ...


Posted by prasanna






Disclaimer