Home > Movies > Interviews

The Rediff Interview / Vivek Agnihotri

'Chocolate is the revival of suspense drama'

September 15, 2005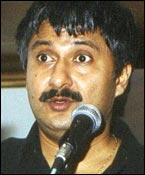 Vivek Agnihotri, a known name in ad filmmaking and television, makes his foray into films with Chocolate, starring Anil Kapoor, Arshad Warsi, Emraan Hashmi, Irrfan, Tanushree Dutta and Sushma Reddy.
Vivek chats with Patcy N about his experiences of filmmaking, how he thought Anil Kapoor and Irrfan could not see eye to eye and why so many ad filmmakers are now making feature films.
Tell us about Chocolate.
Chocolate is a suspense drama. This genre has died after (director) Vijay Anand (Jewel Thief, Teesri Manzil). We just stopped making suspense dramas. So Chocolate is a revival of sorts.
Chocolate is an orbit in which seven different characters keep moving from one place to another to reveal a bigger drama. It's about how ordinary people get stuck in extraordinary situations.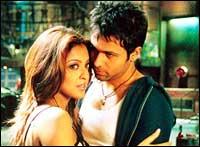 There are seven actors in my film but there is no hero-heroine in it. All of them play characters. The actors are from seven different schools of acting.
Anil Kapoor is a star. He reinvented the characterisation of heroism. You have Suniel Shetty who brought in the macho action hero concept and Arshad Warsi who made comedy so metrosexual and urban. He's funny and stylish at the same time.
Emraan Hashmi took away all the sex-oriented films from heroines and Irrfan, is a new age parallel cinema actor.
You have seven different people and different approaches. That's where the director comes in – bringing them together to a common sensibility. I think I accomplished that beautifully.
I did not have a difficult time working with the actors but it may have been difficult for them to work with me as they are used to a certain kind of environment. But I was mentally prepared. I knew what I was getting into.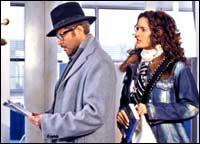 Apparently, Anil Kapoor and Irrfan did not get along on the sets.
They are playing against each other in the film. Both are so committed and such method actors that they actually became enemies. I got scared initially. But when we finished the film, they were hugging each other and behaving like the best of friends!
The clash between Anil and Irrfan is a very dramatic scene, and is my favourite in the film.
What made you take Tanushree Dutta?
Honestly, I did not care about her Miss India title. That's just a television event.
I needed somebody who fit the bill. I wanted a girl who was stuck in a situation and did not where to go from there. That usually happens with Miss India contestants. When they are on stage, they promise many things but once they are crowned, they get stuck with an image. That's where the problems start. That's why I wanted Tanushree.
Quite a few ad filmmakers are turning film directors.
More and more ad filmmakers will come into this field because they know their job and are great technicians. They have seen world cinema, they are educated, they are market-oriented… But the industry never cared about them.
In this industry, people want a 'yes sir' attitude. But ad men usually have a chip on their shoulders. We have more money and are more successful. We call everyone by the first name. My assistants call me Vivek but I don't care. Now, the time has come when one cannot ignore ad filmmakers.


What do you think about the story?








Read what others have to say:





Number of User Comments: 6








Sub: keep it up man.

Hello sir. I am in uae i just saw ur film. it was great superb. long time came a good movie.i liked everyone in that ...


Posted by shibu









Sub: chocolate is fantastic

hello vivek u have done an amazing job chocolate is one of my favourite movie i really enjoyed watchin it n irfann khan is rockin ...


Posted by avinash









Sub: vivek agnihotri the copycat

Dear unsus[ecting viewers pls do not think vivek agnihotri has made a great film. he copied the film almost scene to scene (apart form the ...


Posted by sriram venkitachalam









Sub: i loved the movie

hi sir i m frm u.a.e i saw the u r film it was super and i like all the star cast especially suniel shetty ...


Posted by issa









Sub: hi

hi man


Posted by issa






Disclaimer