Home > Movies > Bollywood News

Director's daughter writes Water memoir

Subhash K Jha | September 12, 2005 16:10 IST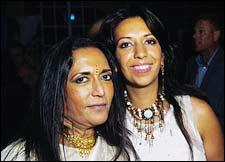 Filmmaker Deepa Mehta's daughter Devyani Saltzman is ready with a book that rips open old and not-so-old wounds regarding her mother's painful divorce and the travails and trauma of trying to make her latest film Water in Varanasi as fundmanetalists threatened dire consequences.
"Its a story that needed to be told. There was never a full and truthful account of what happened to my mother's beautiful film in either the Indian or Western media, just random soundbytes," says Devyani from Canada. "I wanted the full story out there, both as a journalist and as a daughter, for my mom."
The book -- Shooting Water: a Mother-Daughter Journey & the Making of a Film -- weaves both the personal and inter-personal aspects of Deepa's life in what promises to be a comprehensive behind-the-scenes account.
"I wrote it by instinct. I retained what felt right in the personal story," Devyani explains. "In terms of the account of the film, I used my own diaries, newspaper articles and did research to paint an accurate account. But it's not just a dry historical account or a gushy memoir, so I had to weave between the personal and inter-personal as it felt right for the overall arc of the story.
"Writing about my mom and myself was a process of self-discovery. At times difficult, but overall rewarding," she adds.
KeyPorter Books will released Shooting Water... across Canada on October 1. Penguin India has bought it but the release date in India is yet to be announced. It will probably coincide with the film's release in India.
"I can't wait to see it on shelves in the bookstore near my grandparents' house in Delhi," says an excited Devyani. "I will definitely be in India for the Penguin release, and Water´s release. After all, it took six years!"
"I'm so proud of what Devyani has done for me, and for the film," Deepa Mehta adds. "No one knows the trauma I went through personally and professionally. Devyani's book covers the period from the beginning of the shooting of Water in India in 1999 and ends with the film's completion in Sri Lanka in 2004."
Photograph: Getty Images


What do you think about the story?








Read what others have to say:





Number of User Comments: 3








Sub: Water

Deepa should now write about shooting of women in a soccer field in Kabul. We are tired of people from Aamir Khan to Deepa Mehta ...


Posted by Shankar Panday









Sub: Waste of time

Why are people wasting their precious time discussing this "WATER"y thing Lets get on with other important things


Posted by SR









Sub: funny

I am afraid one day you will publish an artice that goes like this - ?????????????????????????????????????????????????????????????????????????????????????????????????????


Posted by abhi






Disclaimer