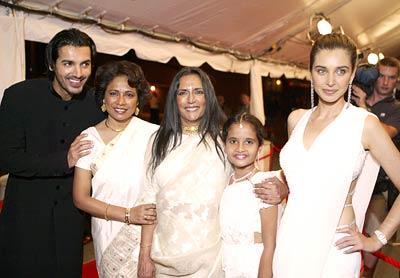 Johnny Depp is, by all accounts,
the most eagerly awaited star at the 30th Toronto International film Festival. But on the opening night on September 8, it was director Deepa Mehta (centre, in pic) who stole the show with her movie,
Water
, which inaugurated the film festival.
Water, starring John Abraham (left) and Lisa Ray (right), is about the ill treatment of widows in the 1930s. It was initially supposed to star Shabana Azmi and Nandita Das, but the shooting in the temple town of Varanasi was abandoned five years ago following agitations by conservatives who did not want it to be shot there.
At TIFF -- the film festival considered to be the world's most important one, following
Cannes --
 the limelight was all on Mehta.
She is hailed not only making what Salman Rushdie says is a film 'unforgettably touching the heart' but also for not giving up her soul to the fundamentalists. Five-year-old pictures of the protestors burning her effigies in
Varanasi
are being published again in widely circulated newspapers like
Toronto
Star.
Some of the fundamentalists in
Toronto
and US cities began offering her 'friendly advice,' in recent weeks, she says. They suggested that the film should not be screened here because Americans and Canadians do not understand the complexities of Indian traditions.
The influential Globe and Mail gave it three stars (out of four) and hailed it for its humanism and insights into the souls of its troubled characters. The two publications also had more than full-page to interviews with Mehta.
Mehta, who made the film almost secretly in
Sri Lanka
, has given the film a bleak and urgent look. And she has not hesitated to make it as bold and threatening (to the establishment) as she had envisaged it five years ago. There are several beautiful and exhilarating moments in the film that stars a surprisingly solid Abraham as an idealist lawyer, Seema Biswas as a woman with a conscience, Ray as a rebellious widow and newcomer Sarala.
But Mehta has eschewed the conventional happy ending, and packed the film with the heart-wrenching scene of sexual abuse of a child. And she has done so without any melodrama, thus making the aftermath scenes even more shocking and startling in their conclusion.
As she continues doing the interviews, Mehta, whose film will be released in
America
by Fox Searchlight over a month from now, is sending a message to people of goodwill to see her film and see that the fundamentalist forces are morally defeated by their support.
At the end of the film, Mehta wants the viewers not only to go home having seen a fine, touching film but also remember the millions of widows in
India
today. They may not live in a segregated house as in the film or pressed into prostitution as the leading character in the movie, but nonetheless, they deserve homes and families of their own, is the filmmaker's message.
Photograph: Getty Images