Advertisement
September 09, 2005 17:33 IST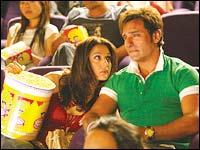 Ambar Malhotra (Preity Zinta [Images]) left Bangalore and nagging parents to come and study medicine in Melbourne, Australia. She wanted to escape marriage and the idea of handling awkward proposals. Now, she works part-time as a radio jockey at a station called 'Salaam Namaste', where she interviews Indians living in Australia.
Nikhil Arora (Saif Ali Khan [Images]) is an architect-turned-head chef who works at a restaurant called Nick of Time, in Melbourne. We are told he always loved cooking, preferring it to playing with friends outside. Now, he does what he loves doing, and the fact that he's also paid for it doesn't hurt him in the least.
Ambar is sensible and punctual, which is everything Nick is not. She works hard, is serious about everything she does, and loves her radio show. He loves cooking, partying with friends and living a life free of commitments. When invited to a radio interview with Ambar, he oversleeps, misses the show, and manages to annoy her. She uses her show to exact revenge. They manage to meet, eventually, and soon realise, after a night of partying at a friend's wedding, that they are attracted to each other despite their many differences.
Nick asks Ambar to move in with him, to see if this relationship can stay afloat. She decides to give him a chance, and agrees. They pick an apartment, and then, the fun begins.
Salaam Namaste [Images], directorial debut of Siddharth Raj Anand, is about what happens when Nick and Ambar decide to live-in together. They don't want to rush into anything. They like taking things slowly, and are both occupied with their individual careers. However, as is wont to happen, the situation suddenly demands they take their relationship seriously. They are thrust into an unexpected development, which threatens the little nest they have built together.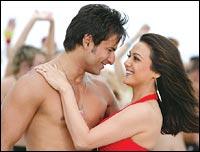 There are a whole lot of laughs, and lots of tender moments between the two, but things soon turn sour. Nick begins to realise that relationships aren't always about romantic dinners and walks along the beach. When pushed into a corner, Nick has to choose between his concept of freedom, and his love for Ambar. She, on the other hand, is forced to completely re-evaluate her idea of what marriage and commitment ought to be.
What the film teaches us is that falling in love is easy, but sticking to a commitment isn't. Before the first half, the audience is left wondering whether Nick and Ambar will manage to get over their differences and take their relationship for what it is, whether good or bad. Will Nick manage to get over his bachelor's lifestyle and handle marriage?
As a romantic comedy, this works very well. There's a lot of romance, and a lot of comedy. Saif and Preity are both perfect for comic roles, and their timing proves it throughout the film. Preity manages to handle all situations thrown at her, and makes for a very efficient radio jockey, while Saif even manages to make a convincing chef. Other stars also have an opportunity to shine here, especially Arshad Warsi [Images] -- who plays Saif's best friend -- and Javed Jafferi, who plays a landlord wary of Indian tenants. Jafferi's role is, in fact, one of the film's highlights. He manages a strange accent perfectly, and his talent is undeniable.
The other faces include Tania Zaetta, Jugal Hansraj, Ravi Khote, Kunal Vijaykar and Kavita Kapoor. For a debut, this is not bad, and Siddharth Raj Anand deserves a round of applause.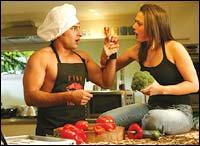 Sunil Patel, the director of photography, also does a commendable job, portraying the city of Melbourne in all its beauty. The Australian extras also deserve a few claps, for managing to do what they do as extras. And yes, Abbas Tyrewala's dialogues hit the mark.
The only downside is the music, by Vishal and Shekhar, which is a bit of a letdown. There aren't too many songs, luckily, so this doesn't affect the film drastically. Also, thanks to the choreography, the music takes a bit of a backseat, which is a good thing.
Still, for an afternoon of laughs, some excellent performances by Saif, Preity and Jafferi, and a well-shot tour of Melbourne, you can't go wrong with Salaam Namaste.