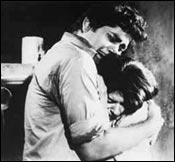 Three-time National Award-winner Sarada had already bagged her first Urvashi award (as they were called then) for the Malayalam film Thulabharam when Adoor Gopalakrishnan made her the heroine of his first film, Swayamvaram.
Sarada won her second award for her realistically subdued performance in the film. Swayamvaram also won the best film, best director and best cinematographer awards.
The actress and former member of Parliament acted in another Adoor film called Elipathayam.
In an exclusive interview with Shobha Warrier, Sarada talks about working with Adoor, who recently bagged the Dadasaheb Phalke award.
I was only acting in commercial films when Adoor Gopalakrishnan asked me to act in Swayamvaram. In fact, being a commercial actress, I was scared to commit myself to an art film. He said he would come to Chennai and narrate the story to me.
| | |
| --- | --- |
| | More on rediff.com! |
| | |
It was at the Prasad studios that we met for a story narration. I was floored by the way he explained the story to me. As he narrated it, I could see the film in front of me. The moment he finished the story, without even thinking twice, I said yes. I was so moved by the story that I immediately told him, 'I don't know whether I will get an award for this film but I am sure that you and the film will get awards.'

I also told him that I had no experience in acting in art films.

I still remember how the film was shot. As the director, he was so thorough about what he wanted from all the artistes that there was absolutely no strain on us. We only had to do what he said. He made us forget our identities, and by the end of the film, we felt like the characters in the film. When we shot for Swayamvaram, not once did I think I was Sarada. I was always Sita, the character.

I would say what we did for Swayamvaram was not acting; it was realism.

There is never any chaos on Adoor sir's sets. He is so soft spoken that the person standing next to you cannot hear what he tells you. There was never any distinction between anybody on his sets; all were treated equal.

When the National Awards were announced, we were happy when Swayamvaram won four major awards. It was not a small achievement at all.

I would like to mention a scene in Swayamvaram. My character was pregnant and I was to lift a pot full of water and carry it to the house. Adoor sir made sure that my body language was that of a pregnant woman, and I lifted the pot exactly the same way a pregnant woman would. Why I am mentioning this scene is, when I met (director) Mrinal Sen, who was one of the jury members at the National Awards committee, at a film festival, he complimented me for my acting in that particular scene. When he said, 'You were so natural while lifting and carrying that pot full of water,' I could only thank Adoor sir in my mind.

Another scene Sen complimented me for was a scene in a bus. There were no conversations in the scene; Madhu and I just had to look at each other. We had to speak through our eyes. I remembered how much explaining Adoor sir did to get the right expressions. If those two scenes were exemplary, it was only because of the way he explained them.

But Swayamvaram would also not have been the same if not for Varma sir (Mankada Ravi Varma, cinematographer). Their friendship was such that Adoor Sir would have only Varma sir for all his films, and vice versa. After Swayamvaram, so many people wanted him to work for them but he refused all the offers.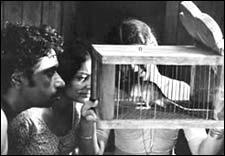 Today, people might be talking great things about Adoor sir but I felt that then itself. I am talking about the early 1970s, more than 30 years ago. We used to say in those days itself that he would become world famous. I can proudly say that I was one of those who said he would be a great filmmaker one day. He has become a big name to reckon with, not only in India but internationally too. It makes me feel so happy to see his rise as a filmmaker.
I had the good fortune to work with Adoor sir in his third film too -- Elipathayam. Only a month had passed after I lost my mother when he wanted me to work in the film. I was very depressed in those days because my mother was my pillar of strength. I told him I couldn't bring myself to act. He had said, 'Sarada, the character you are going to play in the film is also suffering. She is also depressed. You don't have to do anything. Just be there.'
The film went on to win several international awards including the British Film Institute award. I also went to London for the film festival. I have gone to several film festivals with Swayamvaram and Elipathayam too.
I was offered a role in an art film in Telugu only because I had acted in Adoor's films, and I won my third National Award for that film.
I feel so happy that I had the privilege and good fortune to work in two films of his. In fact, I used to feel very sad that I did not get a chance to work in any of his other films.
I feel extremely happy that he has won the Phalke award; the happiness that I feel is exactly like what I would feel upon winning the award.
Also read:
Adoor's oeuvre
'Serious cinema is not dead'
'I don't make films on ordinary problems'
'I am the creator and the critic'
Adoor flays Jha over Devgan award
Adoor Gopalakrishnan's best Indian films
The Millennium Special: Adoor Gopalakrishnan
Films are made only to sell: Adoor Gopalakrishnan
'Hollywood films dubbed in Hindi are a threat'