Advertisement
September 06, 2005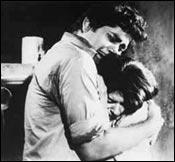 As a young man, Madhu was so passionate about films that he resigned from his job as a college lecturer and joined the National School of Drama in Delhi. In fact, Madhu and Sarada were both established actors when Adoor Gopalakrishnan asked them to act in his first film, Swayamvaram.
Before Swayamvaram happened, Madhu had acted in several memorable Malayalam films, including the first film to win the Silver medal at the national level, Ramu Kariat's Chemmeen.
Madhu spoke to Shobha Warrier on Adoor, his Dadasaheb Phalke award, and Swayamvaram.
I am not surprised at Gopalakrishnan winning the Phalke award. I knew he would win it; if not today, tomorrow.
I knew Gopalakrishnan even before he became a director, and I an actor. Both of us were from Thiruvananthapuram and enthusiastic about cinema, so much so that I joined the National School of Drama and he went to the Film and Television Institute of India in Pune.
| | |
| --- | --- |
| | More on rediff.com ! |
| | |
When Gopalakrishnan narrated the story of Swayamvaram, I knew it was going to be different. He was very serious about his work, and it was like a tonic to those associated with the film. He used to come to the sets with a clear idea about what he wanted from everybody. Unlike many other filmmakers with whom I had worked, I would describe him as a very serious filmmaker.

Before we started shooting, we had long discussions about how he would shoot the film and how the characters should behave. Because Gopalakrishnan had a clear vision about his characters and how they behaved, he did not stop until he got what he had in mind. He was ready to go for any number of retakes.

Though he had to face a lot of financial difficulties, Gopalakrishnan never talked about budget. In fact, budget was the last thing in his mind. He was the first filmmaker in Kerala [Images] who made a film without thinking about its commercial aspects at all.

He made Swayamvaram from his heart without thinking about anything else. He was not bothered about releasing the film, he was not bothered about how the audience would react and he was not even bothered about box office reaction. Such trivialities did not occupy his mind.

Every shot and every action of Swayamvaram was culled from real life. I knew it would be a very good realistic film but never thought it would be a landmark in the history of Indian cinema.

Gopalakrishnan has become the most important filmmaker in India mainly because of his devotion to work. He is as passionate about life as about cinema, which is why he can reproduce life so well in his films. There is nothing unnatural or unreal in his works.

Though I have seen all his films, my favourite is Swayamvaram maybe because I was a part of the film and knew how it was made.

Also read:
Adoor's oeuvre
'Serious cinema is not dead'
'I don't make films on ordinary problems'
'I am the creator and the critic'
Adoor flays Jha over Devgan award
Adoor Gopalakrishnan's best Indian films
The Millennium Special: Adoor Gopalakrishnan
Language is under attack: Adoor Gopalakrishnan
Films are made only to sell: Adoor Gopalakrishnan