Home > Movies > Reviews

Poor narration kills Okkade

B Anuradha | September 05, 2005 16:07 IST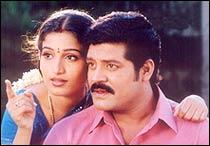 Even time-tested plots require refreshing narration to impress viewers. Action hunk Srihari's Telugu comeback bid with a reliable cop story goes awry because of a stale plot and unimpressive script. Though the action star impresses as an upright cop, director Chandra Mahesh fails to come up with intriguing conflicts to sustain interest. The director rehashes most of the Hindi film Kurukshetra, and further incorporates scenes from a few hit films to spoil the broth. Another drawback of the film is poor screenplay weaved in with clichéd scenes and stale dialogues. An apology for a comedy, this film sorely tests the audience's patience.
Though Srihari was quite confident of his pet theme to regain lost ground, it looks like he needs another good story to rejoin the star brigade. Producer Mahendra too seems to have lost the Midas touch as he has not been among the hits for quite some time.
During his lean trot, Srihari took up some character roles, and without success as a leading man, he just might find himself confined to such roles.
Director Chandra Mahesh, who began with a melodrama like Preyasi Raave, dabbled in other genres before making an action film. But he neither has the talent to discover a plot nor the taste for big action. He needs a crash course in screenplay to sustain himself in the industry.
Baddies Satyaprakash Reddy and Mukesh Rishi (yet again) play dreaded factionists, but they prefer rhetoric to action. They are mostly seen yelling until death. Nagababu plays a wicked politician while comedian L B Sriram impresses as a drunkard cop. Sivajiraja goes from being a bad cop to a good one. Another baddy, Raghu Babu, brother of action star Ravi Teja, has to hone his acting skills. Actress Santhoshi plays Srihari's serial-struck wife, but has nothing much to do.
Producer Mahendra is a successful small budget filmmaker but of late he has not been among hits. Even his much-hyped Swethanagu was a disaster. A considerable while ago, he launched character actor Srihari as the hero with Police but this time his pet theme and actor have less chances of breaking the jinx.
Fearless cop Srihari prefers to shoot down criminals, avoiding the legal course of action. Home Minister Nagababu posts him to the Rayalaseema region in an attempt to crush down factionalism. He arrives in town and brings confidence to the people. Factionist Mukesh Rishi wants to eliminate him. You have to watch the movie to know the rest.
Want to see this movie? Check out Rediff Movie Tickets!