Home > Movies > Reviews

Alas, Ramji could have been good

Raja Sen | September 02, 2005 19:18 IST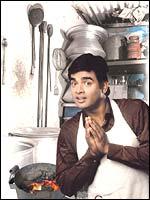 Maybe it's because I was famished, and the very idea of a self-styled gourmet chef pulling off great epicurean feats effortlessly appealed to me, but I indulgently smiled through most of Ramji Londonwaley's first half.
And this is all because of Madhavan. The actor was reportedly quite good in the film's Tamil original, Nala Damayanthi, and he shines through this simpleton role with flying colours. It's a very straight character, a naďve do-gooder country bumpkin struggling to cope with London.
The challenge is in lacing his straight-man with likeability, and this is something Madhavan manages quite deftly. He is utterly believable, almost always convincing and delightfully restrained -- something our finest leading men seem quite incapable off.
As the chef bumbles through credible difficulties, we're convinced it's a refreshing film. The premise is predictable to the hilt – cook needs dough for sister's wedding, goes to London, loses everything, and then goes from rags to riches through a series of fortunate filmi events. But it's 'feel-good' -- which translates to an audience supposed to suspend disbelief and leave our cynic hats at home. Fine, fine. So we're initially okay with the film, as is our Bihari protagonist.
| | |
| --- | --- |
| | More on rediff.com ! |
| | |
Except, we notice by the time we're munching interval-bought popcorn, Ramji's accent slips. From a blissful ignorance of the English tongue, he has oddly enlightened moments when he spouts perfectly comprehensible complete sentences in the language.

This, in a nutshell, is the problem with this initially harmless film – it is tragically inconsistent.

And we aren't talking about the bad direction. First-time director Sanjay Dayma is totally lost throughout the film, with continuity and factual errors glaringly difficult to miss. Characters change position between cuts, the editing is shoddy, and the whole package is decidedly amateurish. The dubbing is atrocious. Still, we start by settling into Ramji and giving it the benefit of the doubt, because of Madhavan's character, and the script's simplicity.

It is this simplicity that the film starts to lose as it goes on, and this is most unfortunate. Starting well with Ramji's life in a small Bihar village populated by the residents of Ashutosh Gowariker-Land (yes, the director's regulars), our hero gamely tackles irate flight attendants, travel on the London Underground, and an unexpected funeral. And – again, because of the way he plays it straight – we're okay with the way things progress.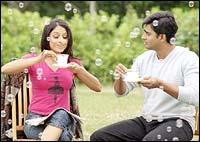 Then he meets his heroine, Sameera, played by Samita Bangargi. The girl looks reasonably fine as long as Dayma isn't zooming right into her face – which he likes to do quite a bit – and she's surprisingly not an intolerable (as opposed to, please note, 'a tolerable') actress. At least she doesn't shriek, or giggle annoyingly. Anyway, we're still waiting for them to fall in love, and for some mush being garbled by our bumpkin. Unfortunately, this doesn't happen till the very end of the film, and in between, things go very awry.
The simple film turns very contrived with a dozen little side characters and a lot of very avoidable melodrama. As things drag needlessly on – the film stretches slowly close to the three-hour mark – Ramji's constant confusion is replaced by his being a man of action, and the director begins to prioritise the wrong subjects in his narrative. For instance, one of the highlights of the film, his entering a cooking competition, is reduced to tiny little spool-time during a song sequence. And copious scenes are devoted to a very confusing, totally irrelevant sister-best friend subplot. Tsk.
It's irritating because this could have been polished into a good film. Maybe even a memorable film. Madhavan makes a valiant attempt, and renders the film almost entirely watchable, but that happens to be a big almost, sadly.
And then there's the end, the very end, which feels like a bad Kaun Banega Crorepati promo. Ouch.
Want to see this movie? Check out Rediff Movie Tickets!


What do you think about the story?








Read what others have to say:





Number of User Comments: 21








Sub: rediff reviewers

I dont know who gives these stupid reviews in rediff?ramji londonwale is a very good movie,it was different and humorous and what not.These people just ...


Posted by ram









Sub: Ramji makes you forget your worries...

Life in the Silicon Vallye is already full of tensions, hectic work schedules the usual hazards of life in the tech capital of the world. ...


Posted by SK









Sub: raja 'in' sane has done it again

well raja doesnt know his job , after his disasterous work with yahaan he did the same with ramji. just IGNORE raja's review watch ramji. ...


Posted by prashant









Sub: thats right ignore the review go watch the film!!!!!!!

Its a great Film to watch though I watched it in three intervals but not even at the single instance i realised that its irrelevant. ...


Posted by Ash









Sub: cool man

this is an awsome movie i just loved madhavan hes just to sweet.


Posted by Manasa






Disclaimer