Home > Movies > Reviews

Pyaar Mein Twist: Good stuff

Indrani Roy Mitra | September 02, 2005 18:47 IST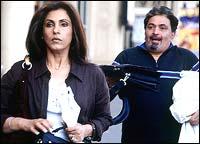 I remember bunking a coaching class when Sagar was released decades ago. It was, as an enlightened friend pointed out, laden with 'adult scenes'. I was in school at the time, and more than intrigued. After all, 'adult scenes' weren't easily accessible.
I don't remember the scenes in question. What I do remember is being taken by the quiet charm of Rishi Kapoor and the sensuous appeal of Dimple Kapadia's every move. Considering I have also seen Bobby, then, the thought of not watching the duo team up after all these years simply didn't exist.
Which is why I bought my ticket for Pyaar Mein Twist.
Dimple a.k.a. Sheetal Arya is a superwoman. She can manage her family, business and children effortlessly. She is a great mom, a super mom-in-law, and a classy businesswoman. Is there anything she can't handle? Yes. One morning, she bumps into industrialist Rishi Kapoor a.k.a. Yash Khurana and Cupid decides to play truant. Though the first meeting doesn't end amicably, the two keep meeting each other until enmity turns into friendship, bordering on affection. This is when the real drama begins.
'Love at this age?' scream the duo's children. How can two old people get so close to each other? The sole voice of support comes from Farida Jalal, Dimple's sister-in-law, who questions the right of the young alone to fall in love.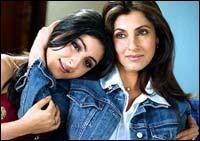 Taking a cue from Bobby, Dimple and Rishi feel the need to understand each other better and 'elope', much to the chagrin of their families. As Rishi sings and dances to Khullam Khulla Pyaar Karenge (from Khel, which starred him and wife Neetu Singh) at a party near their hideout, it immediately takes me -- and many in the audience -- on a trip down memory lane. So far, so good. As the couple come closer, their absence helps ruffled family feathers smoothen. The film moves towards its obvious denouement.
Predictable, eh? I tell myself. And yet, I can't get over it. Pyaar Mein Twist manages to create moments that stay in my mind. There's enjoyment at an elderly couple's camaraderie, the way Dimple keeps admiring Rishi's buttons, the way he gropes for words that express his love, the time he drops off to sleep just as he attempts to make his advances. The twist in the tale lies in these fragments.
As far as acting is concerned, Rishi scores way over Dimple as the latter seems to struggle to get her act together. Her voice also sounds too husky for comfort. Rishi, meanwhile, proves that age has withered neither his charisma, nor his abilities. Getting into technicalities here is pointless. This is a simple story, simply told. There is not much scope for either the cinematographer or music director.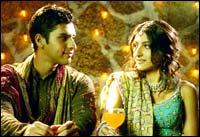 Critically speaking, Pyaar Mein Twist would have looked sleeker without a few glitches. For instance, Sameer Dattani â€" playing Dimple's daughter Soha Ali Khan's boyfriend -- should have taken acting classes before facing the camera. He wears an expressionless face right through. Soha has little to do apart from looking good and shedding a few tears, while veteran Satish Shah looks as fat and sweet as ever. Farida Jalal steals the show with her spontaneous charm.
Pyaar Mein Twist may not appeal to teenagers. For those on the wrong side of 40, however, it will touch a few chords. As for me, it was a tryst with long forgotten childhood stars. And that's always a good thing.
Want to see this movie? Check out Rediff Movie Tickets!


What do you think about the story?








Read what others have to say:





Number of User Comments: 14








Sub: to deepak

hi deepak, What's wrong if bollywood makes a remake ha ?? If people like us who don't understand kannad for us it is good that ...


Posted by RAD









Sub: Kannada movies need new heros...!!

HI Friends, I feel Our Kannada film industry need some new faces as heros , what u feel about it? as many people boaring to ...


Posted by ANILKUMAR









Sub: One of the best

Well I wud definitely agree on one point without ne arguements that RK rocked in the movie He was absolutely dashing,amazing with the french beard(yeah ...


Posted by kingP









Sub: why my reply not posted?

2 days ago i posted a reply. it is not posted. why??????????????? u people are biased towards Kannada language.


Posted by Govinda









Sub: remake

PMT is a pakka remake of the national award winning film preethi prema pranayaand the film's producers have done a crime by not buying the ...


Posted by anonymus






Disclaimer