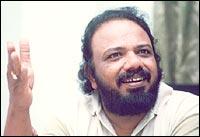 Noted scriptwriter and filmmaker from Kerala, Lohitadas was recently in Chennai to give the final touches to his first Tamil film, Kasturiman. It was first made in Malayalam, with the same title, starring Kunchacko Boban and Meera Jasmine. And yes, it was a huge hit. The Tamil version has Meera Jasmine in the female lead once again, but the hero is Prasanna of Five Star and Azhagiya Theeyae.
Lohitadas was the director who introduced Meera Jasmine to cinema with Soothradharan. He was in the news once again after being held responsible for an open fight between Jasmine and her family. The accusation by her family was that Lohitadas was using Meera's money to produce Kasturiman, something the director vehemently denies. "I have been in the industry for nearly 20 years. Do you think I don't have the money to produce a film? For the last time, I am producing this film, not Meera."
Slide Show: Tamil releases this Diwali
He also brushed aside gossip from the Malayalam, Tamil and Telugu papers about an alleged affair he had with Meera, said to be another reason for the fight. Lohitadas is blunt again, and does the kind of plain speaking he did in an earlier interview with rediff in 1997. Excerpts from a conversation:
Why did you decide to make a film in Tamil?
I have had offers to make films in Tamil before, but I was busy with Malayalam cinema. I also felt that if I didn't know the language and culture well, I wouldn't be able to make a film in that language. Later, I realised there was no difference between human emotions; they are universal. The story of Kasturiman is universal.
Why did you choose this particular story? There are several films that are more successful than Kasturiman. Is it because Meera Jasmine is a known name in Tamil cinema?
Not at all. If I were to re-create other films, I would need a very strong hero to portray those characters. Take the case of films like Bharatam, Kireedam, Kamaladalam (all with Mohanlal in the lead role). Without a strong hero like say, Mohanlal, these films would not be successful.
So, I thought I would make a film in Tamil with a new hero. I thought of films that would fit into that category, which is how I decided upon Kasturiman. I had initially thought of making a film with Vikram, but the problem with me is I can't narrate a story to any hero. I can only write a script. In Malayalam, I need not narrate a story to any actor. They know what I am capable of.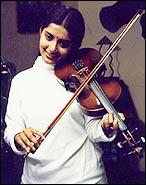 In almost all your films, your protagonists are pawns in the hands of fate and society. In your last interview, you told me how your characters were dragged into certain situations by society. But Kasturiman is different. Did you make this film keeping in mind how the audience has changed?
I can't change just because the taste of the audience has changed. I will be the same till death. Yes, with the way the world changes, we also change slightly in our viewpoint. But I am still the same Lohitadas.
I didn't say you have changed. For example, youngsters of the late 80s or early 90s could identify with the characters played by Mohanlal in Bharatam or Kireedam, but today's youngsters have changed.
I agree that today's youngsters have changed. I have not written many love stories before. I believe love is only a small element when you look at life from a larger perspective. In all my films, there was love, but it was not the dominant feeling. For a change, Kasturiman is basically a love story, yet there is something more to it than love. The fact is, I don't know what the audience wants. So, I tell a story I believe in. If everybody knew what the audience wants, all the films would have been successful.
Many say the reason Malayalam films are not as successful as Tamil films in Kerala is because most Malayalam filmmakers still live in the past, without understanding the changing attitudes of youngsters. Do you agree?
No, I do not. All the stories we create are based on what was left behind by Vyasa. Not a single storyteller has said anything that Vyasa has not. All the stories we tell are about human emotions and human beings. Is there any difference in the way human beings behave? No, they are still the same.
Back to Kasturiman. Weren't you bored directing the same story again?
I was bored when I wrote the same script again with some changes, but, while directing, it was a new experience. The location was new, the artistes were new and the language was different. It was like making a new film.
Meera Jasmine did the same role in Malayalam as well. Could she add any new dimension to the role now?
Yes, she did add something new in some situations. When she did the Malayalam version, she didn't know the character so deeply. When she did the role first, there was spontaneity in her acting. Now, she knows what comes next.
When you first asked her to act in your film Soothradharan, what potential did you see in her?
I just wanted a girl who looked like my innocent Shivani for the film. Meera looked the part. There was nothing more than that in choosing her.
Did you expect her to win the national award in such a short span?
No. When she began acting, she was a young, innocent girl who didn't know how to walk, talk or face the camera. She was like a puzzled schoolgirl.
I will tell you something, I get attached to all the people who work with me. While shooting for Soothradharan, I found that Meera had a lot of memories about her childhood. I knew anybody with memories would come up in life. When I introduced Manju Warrier too, I felt the same thing. She wasn't excellent in her first few films either but, with each film, she learnt more and blossomed.
You were accused of being the cause behind the rift between Meera Jasmine and her family. How did you handle the accusation?
As long as my conscience does not prick me, as long as my wife and kids understand me, I am not scared of anyone or anything. All who have accused me are people who think there is only one relationship between a man and a woman. I was very hurt, and it affected my creativity, hence the long gap between my films.
It was reported that this film was produced by Meera Jasmine, which is why her parents were angry with her.
Do you think I, who have been in this industry for two decades, do not have the money to produce a film? Do I have to take money from a girl who came in only a couple of years ago? When I came here (Chennai), a journalist from a Tamil magazine asked me, what are your feelings towards Meera Jasmine? I said, love. (laughs) Love does not mean lust. I love my mother. I also love my children.
Photograph: Sreeram Selvaraj