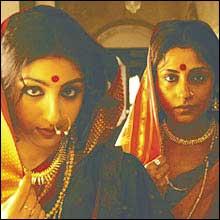 Age does strange things to you. When I first read Tarashankar Bandyopadhyay's short story Protima at 13, I was moved. I fantasised about nurturing a secret affair with a handsome potter. 20 years later, when I saw Rituparno Ghosh's Antarmahal, inspired by the same story, I was moved once more, albeit for a different reason. I shivered at the oppression women suffered at the hands of their 'masters' -- the zamindars, husbands and priests.
Ghosh takes enough liberties with the plot. But as a skilled craftsman, he never lets it go awry. Rather, on a canvas built by Bandyopadhyay, Ghosh paints a lively portrait of nineteenth century Bengal. He touches upon various tales of oppression, of aged husbands raping wives half their age, society making fun of wives unable to bear children, priests taking advantage of helpless housewives and so on.
Bhubaneswar Chowdhury (Jackie Shroff [Images]) is a wealthy and tyrannical zamindar. His life is ruled by two obsessions -- his desperate need of an heir, which his wives Mahamaya (Roopa Ganguly) and Jashomoti (Soha Ali Khan) seem unable to deliver; and competing with his regional rivals to produce the most magnificent effigy of a goddess for the annual Durga Puja.
In his relentless effort to belittle his rival, Chowdhury hires a potter Brijbhushan (Abhishek Bachchan [Images]) from Krishnanagar and orders him to make the goddess' face after Queen Victoria. He hopes this gesture will earn him the title of Rai Bahadur. It will be unfair to give away the rest of the story.
Ghosh is often referred to as belonging to the Ray school of filmmaking. After Antarmahal, one has to say he is the perfect disciple. For, like the master, he too has the great ability of choosing the right cast.
Who but him could have thought that Jackie would speak impeccable Bengali, that too with a nineteenth century inflection? In an interview with rediff.com earlier, Shroff said he managed to speak the language alien to him by simply memorising his lines. If that were the case, full credit goes to him and Ghosh for an astonishing feat. Shroff played a Bengali zamindar quite well. This film will add to his list of best performances and is likely to win him an award or two.
If Shroff is the perfect zamindar, Roopa Ganguly was cut out to be his wife. With her apparently commanding yet kind presence in the household, she puts in one of the finest performances of her career. She has always left her mark in each of her films, but Antarmahal will add a special feather to her cap.
Soha, as Roopa's rival -- her husband's second wife Jashomoti -- looks refreshingly new. Like Raima Sen [Images] in Chokher Bali, Ghosh makes Soha do exactly what he wants, much to the audience's delight. Ghosh does with her what Ray used to with her mother (Sharmila Tagore). In fact, Soha's dimples, smiles and deep, probing eyes are sure to make someone like me, who grew up on Ray's films, nostalgic.
Abhishek Bachchan impresses with his fiery looks and reticent nature. Here too, thanks to the director.
The film, as it's A rating will tell you, is full of intimate scenes. That can make a few prudish eyebrows rise. But those immune to Ghosh's films will not mind. After all, he weaves a story set at a time when women were treated like pieces of furniture.
While the taut script never lets its pace slack, a detailed set and neat cinematography keeps the interest alive. The director does well to lend a subtle treatment to the romance that evolves between Soha and Abhishek, as if to accentuate the uncouth lovemaking that takes place between the zamindar and his beautiful second wife.
A must see for those willing to be exposed to real good cinema.