Advertisement
October 27, 2005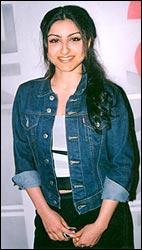 If you had Nawab Mansoor Ali Khan Pataudi as a father and film star Sharmila Tagore as your mother, life would have been luxurious from the moment you popped out into the world.
Soha Ali Khan [Images], however, wants things to be different. She prefers staying alone in Mumbai, managing her own affairs. Her first steps into the film industry are behind her, but she knows she has a long way to go. The actress spoke to Syed Firdaus Ashraf about the release of her latest Bengali film, Antarmahal and a few other issues. Here are some excerpts:
Antarmahal's star cast includes Abhishek Bachchan [Images], Jackie Shroff [Images] and Rupa Ganguly. I have done a Bengali film earlier, and I think there is lot of scope for a female actress in Bengali cinema today. They have a lot of scope on an international level and are true to Indian culture. I don't think the film will be restricted to a particular audience either, as it will have subtitles.
The film is based on Tara Shankar Bandopadhyay's novel about a man who wants to be immortal. He is getting older and, as he has no children, takes on a second wife. The story deals with his life and the condition of women in those days. 100 years ago, things were very different for women.
I have a lot to achieve. These are the early days of my life and I think I'm taking on the right kind of films. Each of them has been a building block for me, but I'm not the one to decide whether the film will click or not.
I don't fear the future or worry about what I will do if I don't get any more roles. I have my Masters degree in international relations, banking job experience with Citibank, and I have also worked in developmental organisations. I know I will always have something to do in life.
At present, I am living alone, which can be tiring at times. There are little things that annoy you. For example, you can ruin the electrical equipment and not have electricity, or you run out of LPG for your morning cup of tea. But I have started managing my own affairs and am not finding it difficult. I have always kept in mind that I come from a family that is recognizable in public. I have to act responsibly all the times.
One of the greatest advantages of living in Mumbai is I have my brother Saif, who lives close by. I drop by his place when there's no food at home or if I get locked out of my home after forgetting my keys. We used to have family get-togethers twice or thrice a year before, but I meet Saif more often now.
We are a multicultural family. My mother is Hindu, my father Muslim. We celebrate every festival, be it Diwali or Eid. We also go to gurudwaras and I even observed Lent (the Christian fast) for a month while I was in London [Images].
My father is not interested in films and doesn't bother to watch them. I never force him to see my films either. He prefers to read rather than watch television. My mother is the one who guides me and points out mistakes if I make them.