Home > Movies > Bollywood News

'I can't help acting like Abhishek's mother'

Indrani Roy Mitra | October 26, 2005 18:05 IST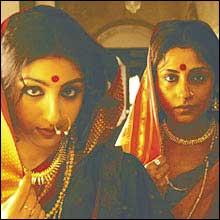 Arguably, Roopa Ganguly is the Bengali film industry's answer to Bollywood's Shabana Azmi.
Accept it or not, Roopa is one of the most cerebral actresses Tollywood -- so-called after Tollygunge, a Kolkata locality that houses most movie studios -- has ever produced.
Known for her talent and her outspokenness, the actress has carved a niche for herself on both the small and the big screen. Roopa -- best remembered for playing Draupadi in B R Chopra's television serial Mahabharata -- is as good at playing her rebellious self as portraying someone diametrically opposite to her.
Which is why director Rituparno Ghosh cast her as the boro bou (first wife) of a 19th century landlord (Jackie Shroff), in Antarmahal.
"It was a big challenge for me to play a role so intrinsically different from me," Roopa says. "I play a docile wife to an arrogant zamindar, who doesn't hesitate to remarry as I fail to deliver him an heir."
The real challenge in the character lay in its complexity, juxtaposed with an ever-changing political scenario, the actress says. "Technical intricacies notwithstanding, Ritu [director Ghosh] put everyone at ease in no time," she adds.  
Roopa takes a keen interest in everything she does. Antarmahal was no exception. "There is an advantage of working with Ritu. He not only smoothens out things for us but also designates work so efficiently that everything gets done methodically and well in time."
About co-actors Soha Ali Khan and Abhishek Bachchan, Roopa says, "I had a great time with them, as also with Jackie Shroff. There was a lot of positive vibes in the team."
The actress is all affection for Bachchan Junior, "He is a darling who refused to sit on one chair at a time. He would pile one chair after another and sit on top of them as if to accentuate his height."
Roopa fondly remembers helping Abhishek de-bone fish during a typical Bengali lunch. "'My mom helps me eat fish,' he had told me and I just couldn't help acting like his mother for a day at least," she smiles.
Apart from rushing through the pre-release formalities for Antarmahal, the actress is busy with the screening of Ek Mutho Phool, a film, rather a conglomerate of five films, which will be aprt of this year's Asian Film Festival in Pune.
Antarmahal releases on October 28.


What do you think about the story?








Read what others have to say:





Number of User Comments: 1








Sub: Bong movies and Bong Reviewers

Dear Readers, I think Rediff takes us all for fools...It is amazing how each time there is a bong movie or remake in Hindi or ...


Posted by Sudarshan






Disclaimer