Advertisement
October 21, 2005 16:31 IST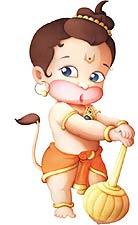 When the lesson of virtue and devotion is layered with wholesome adventure and colourful episodes, finding attentive disciples shouldn't be such a problem. And if it happens to come in animation, then the outcome cannot be but entertaining.

Percept Picture Company and Sahara One's [Get Quote] animation picture Hanuman [Images] is all that.

I don't know how much today's generation knows about this adorable god, known by various names like Mahaveer, Pavanputra, Maruti [Get Quote], Ramdoot, Anjaniputra and Bajrangbali. Without trying to sound too smug, I must admit, my generation was clearly better off. Thanks to good old grandma, Amar Chitra Katha comics and Ramanand Sagar's long-running television saga Ramayan, we are well versed with Lord Hanuman and his feats of unsurpassable bravery.
Whether it was his desire to uproot the sun from the sky mistaking it for a fruit as an infant or putting the golden nation of Lanka afire with his tail, Hanuman's unconventional godliness makes him an eternal favourite.

As a part of the divine plan, Lord Shiva [Images] took the form of Hanuman to put an end to evil on earth. Born to Anjani and Vayu, the god of wind, Hanuman is bestowed with the gifts of resistance against fire, weapon and water. He is also blessed with powers of disguise, and immortality. That he is no ordinary mortal is clear to him from childhood itself. His wild early days, in the movie, appear to be inspired from of the Disney brand of adventures, a la young Tarzan and Mowgli -- soaring from branch to branch, surfing on stars, finger-lifting wild elephants, saving baby bears from crooked-face crocodiles.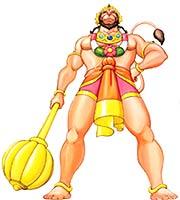 Once Hanuman grows up, he is reminded of his original purpose -- unconditional devotion to Ram, a Lord Vishnu incarnate, also a part of the divine design to restore peace on this chaotic planet.
He meets Rama in the forest, who is in exile, along with younger brother Lakshman and searching for his wife, Sita, who has been kidnapped by the wicked Lanka king, Ravan. How Hanuman plays an integral role in rescuing Sita and defeating Ravan and his army of giants and demons is encapsulated in the second half of the movie.

In a land deep-rooted in mythological tales and folklore, digging subjects for an animation flick is no Herculean task. Director V G Samant chose the rich story of Hanuman. The good thing is he covers numerous chapters of Hanuman's life without lingering too much on one occurrence; thereby keeping the pace of the film terse and the viewer effortlessly involved.

Most of the charged score comprises the popular prayer, Hanuman Chalisa, which creates a grand impact on screen. 

To expect The Little Mermaid or Tarzan kind of finesse in the computer graphics department will be unreasonable. For beginners, the animation is a fairly decent effort. One does notice a few blotches here and there, but the overall content is powerful enough to hook. Hopefully in another five or six years, things will look even more promising.

There is one more hitch though. Unless you have really read Ramayan and other mythological stories circling around Hanuman, you will not really understand the untold subtext. Like what is Lord Ram in an exile for? Why did Ravan abduct Sita? What insult is he speaking of? Who is Narad? Who is Indra? And a lot many questions can pop up in an uninformed viewer's mind. The director credits his modern audience with a little more than he should have.

Then again, even the Japanese Spirited Away, which was later dubbed in English by Disney and went on to nick an Oscar, spoke a lot about their ancient gods and myths. And, it worked.

Overall, I'd say Hanuman is worth a watch, age notwithstanding, not for the animation but its timeless history and absorbing narrative.