Incidentally, the five-and-a-half minute song is picturised on Rai's younger character. "I am still overwhelmed by the experience," she says excitedly.
Anmol, it seems, has taken after her father as far as singing ability is concerned. For, though she was handed the lyrics two days before recording, she finished taping the song in 15 minutes flat. "I got an okay in one go. There was no retake," she says proudly. This is but natural coming from someone receiving rigorous music training at home.
Exposed to both Hindustani and Western music, Anmol does not want to name her favourite singer. "It will be unwise to name any particular person. Each singer has his or her style and one needs to be tuned to that style to form an opinion." However, she cannot hide her fondness for singer-actress Jennifer Lopez. "It's improper to take a J-Lo song at face value because her performance is a package which needs to be savoured in totality."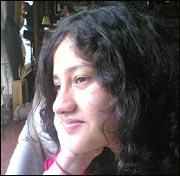 For someone so perceptive, it is no surprise that Anmol does not want to let a dreamy start to her musical career tell upon her studies. "At the moment, music is on the backburner. I am determined to do well in the board exam," she quips.
She says she will pursue music only as a hobby. "My parents want be to do well academically. They have many expectations of me and I don't want to disappoint them," Anmol reasons.
As she speaks about her dream of getting a scholarship and going abroad, you can see her teenage exuberance. "I have to excel in studies," she signs off.