Home > Movies > Bollywood News

Adnan admits being in love with an actress

Subhash K Jha | October 17, 2005 14:47 IST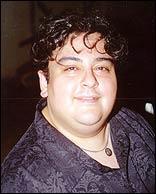 Vikram Bhatt has finally squashed rumours that his long-time girlfriend Amisha Patel is seeing singer Adnan Sami.
"This rumour started when Amisha accompanied Adnan on his world tour. Believe me, there's nothing between them. I should know. Amisha is with me. We are doing just fine together," Bhatt says. "These rumours aren't healthy for any relationship but I guess all high-profile relationships have to go through these cycles of public scrutiny. Amisha and I are very much in love. And if she wasn't busy with her career, we'd have made it official without a second thought."

Meanwhile, Adnan is still blissful about his Agra concert last month, where he sang at the Taj Mahal to an audience of about 20,000.
| | |
| --- | --- |
| | More on rediff.com! |
| | |
"I felt like Shah Jahan," Adnan chuckles. "What made it even more special was that I had my Mumtaz Mahal by my side."

 

"It was a dream concert. I believe some 3,000 more people were listening from the streets. It was part of the year-long celebrations on the completion of 350 years of the Taj Mahal. It was an honour to perform at such a grand occasion, especially since Chief Minister Mulayam Singh Yadav attended."

 

What made the occasion even more memorable for Adnan was that his lady love was present at Agra to share this historic moment with him. "Yes, I've begun to rediscover love," Adnan, who has gone through two divorces, says. "But it's too early to talk about her. We're just beginning to discover each other. If all goes well, it will turn into something durable and everlasting. I don't want to divulge her identity but yes, she is a well-known Bollywood actress. We met during the last lap of my world concerts last month. Since then, we have been constantly together."