Home > Movies > Reviews

Koi Aap Sa is a headache

Vipin Vijayan | October 14, 2005 20:33 IST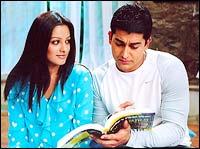 I was mostly yawning through the two and half hour soap opera... oops! film, Koi Aap Sa. And giving me company at the theatre were two couples, three girls, three guys and a loner, who, like me, was wondering what he was doing there.
Koi Aap Sa is almost like a marathon Ekta Kapoor serial on 35mm!
This Natassha-Aftab Shivdasani-Dipannita Sharma is about the Bollywood notion that a boy and girl cannot stay friends. Simran (Natassha) and Rohan (Aftab) are childhood friends. It seems scriptwriter Ektaa Kapoor forgot to provide details about Rohan's family background. One realises only towards the end that he's an orphan. And there are no details about where he was brought up, or how he got his flashy red car either.
Rohan is infatuated with Preeti (Dipannita) and takes Simran's help to woo her. When he gets her, Preeti expects him to choose between frienship and love. But Preeti's doubts vanish when Simran's boyfriend, Vicky (Himanshu Malik) enters the scene.
In Bollywood, when all goes too well, the movie's drab. So, in keeping with tradition, Simran is raped by her fiancé's NRI mentor. The best friends decide to keep the incident a secret, and a song and dance number follows!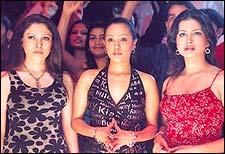 Loose picturisation also takes its toll on the movie. The locales change for every scene, flitting from Mumbai to overseas in seconds.
The first half reminded me of Karan Johar's Kuch Kuch Hota Hai, especially the friendship between Rohan and Simran. Aftab even plays football in college, just like Shah Rukh Khan! The second half is similar to the Priety Zinta-Chandrachur Singh-Saif Ali Khan starrer Kya Kehna.
One good aspect of the film is the music. Good job Himesh Reshammiya!
Aftab and Natassha come up with average performances, while Dipannita is wasted. Her role is limited to expressions of disgust and frustration. On a whole, I would rate the film poorly, but for its score. If you're going for the movie, don't forget the aspirin.
Want to see this movie? Check out Rediff Movie Tickets!


What do you think about the story?








Read what others have to say:





Number of User Comments: 10








Sub: movie is OK

Hi I felt that KOI AAP SA is an average film. It has lots of comedy. Only few seens are boring. I felt natasha and ...


Posted by siddharth verma









Sub: KOI AAP SA

I fully aggree with your views and comments re KOI AAP SA. I presume the hangover of this movie will take another one week to ...


Posted by JAYA RAO









Sub: Koi Aap Sa

Well What can be expected from Ekta Kapoor.. First she has bored the audience on the small screen and now she can\'t help but bore ...


Posted by Aadil









Sub: re:Koi Aap Sa is a headache

I dont think so. i have seen much worse movies where you cant stand any logic. Here at least its a simple movie with believable ...


Posted by ashish









Sub: Koi Aap sa - just another film

At a time when other film makers were waiting for the right time to release their most awaited films; Eektaa kapoor took a chance by ...


Posted by Ulhas Shirke






Disclaimer