Advertisement
October 10, 2005 14:57 IST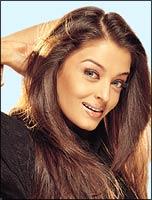 At the mahurat of JP Dutta's new film, Umrao Jaan [Images], leading lady Aishwarya Rai [Images] looked slim and radiant. She had flown back the night before from the shooting of The Last Legion in Slovakia straight to the event.
Ash stayed the whole day -- chatting and enjoying the attention -- and left the place only at 7.30 pm. "It's good to have her as part of our team. She gives out such positive vibes," JP's wife Bindiya Dutta said.
Throughout the day, all eyes were glued on Ash and Shabana Azmi [Images] who play daughter and mother in the film.
The turn-out was impressive. Besides Shabana and Ash, the rest of the cast -- Suniel Shetty [Images], Arshad Warsi [Images], Divya Dutta [Images] and Puru Raj Kumar -- also made their appearance.
But the film's leading man, Abhishek Bachchan [Images], was missing though he kept calling and messaging the Duttas from Goa [Images],  promising to land in Mumbai before the event was over. But by evening, it was clear Abhishek wouldn't make it.
"Never mind," JP smiled fondly. "He's my boy. I can feel his presence right now!"
An old-world charm clung to the studios. It could have been something to do with Anu Malik's song that was being recorded. As Richa Sharma's voice rose to a crescendo, the congregation broke into collective goosebumps. Anu Malik's [Images] daughter Anmol accompanied Richa in the song. Anmol earlier sang in Biwi No 1.
"Javedsaab and Anu Malik have worked really hard. We've already finalised nine tunes for Umrao. This is the first song," JP said.
At the end of the day, the director looked jubilant but exhausted. "We have to match up to the music of those two other great classics about the tawaif -- Muzaffar Ali's Umrao Jaan and Pakeezah. We have to make sure that the music isn't reminiscent of those two but ghazal toh ghazal hi rahega na?"
If Asha Bhosle [Images] was the voice of Umrao in Muzaffar Ali's film, Alka Yagnik will sing for Aishwarya in JP Dutta's Umrao Jaan.
The film goes on the floors in November. "I've my actors' dates till April. I will go on shooting for as long as it takes. This is a new genre for me, and I feel like a traveller taking an unknown road," JP says.