Home > Movies > Reviews

Forget Hogwarts, go to Sky High

Raja Sen | October 07, 2005 17:32 IST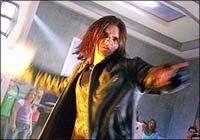 Let's get this straight off the bat: If you can sit through Harry Potter, you have no business sneering at this quintessential Disney film. Even if most people in the ticket line are half your height, this is a fine, fun watch and makes for terrific Sunday afternoon viewing.

Sky High is a high school, and follows the American pre-teen flick formula to a tee: insecure boy plays the lead, gains self-confidence, is accepted by the cool clique, begins to ignore old nerd buddies, and eventually realises the error of his ways. Sure, we've seen it a million times. But hey, this is not a film about plot, something director Mike Mitchell knows only too well.
| | |
| --- | --- |
| | More on rediff.com ! |
| | |
Sky High isn't just a school. It's a breeding ground for the next generation of superheroes. It's where the children of legendary superheroes come to hone their powers. And no, it's not like Professer Xavier's academy (where the X-men are trained) but a definite stage earlier than that. It's where they discover who they are, and what their powers can do. A school cloaked in cheeky, delightful comic metaphor.

It's a tongue-in-cheek idea, something that could possibly make an appearance in a family-pleasing Marvel Comics annual. It's a laugh, and it's also where Peter Parker's kids could possibly be cutting gym class.

The Commander (Kurt Russell) and Jetstream (Kelly Preston) are the world's greatest superheroes. We soon realise that it's a slightly B-list superhero universe, as The Commander is simply super-strong, and Jetstream can fly – that's about all. But even away from Marvel's operatic heroes or DC's gritty players, it's a friendly place. Quite like that other Disney film, The Incredibles.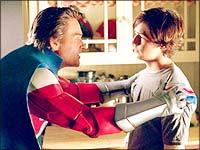 Scaling down the superhero theme works, as the simplification helps the narrative considerably. Will Stronghold (Michael Angarano) is dreading his first day at Sky High. Son of the aforementioned legendary super-duo, his biggest secret is he hasn't got his powers yet – obviously the superkid's equivalent of puberty. As he waits for the flying schoolbus, he isn't in the best of moods. His closest friend Layla (Danielle Panabaker) is a pretty girl who can control plants and grow fruit, in the mould of a nicer Poison Ivy. Next to her, Will feels like a weed.
School, set on a disc floating several hundred miles above the earth, is the rare kind of educational institution kids would use the word 'awesome' for. Jocks hit on girls with heat beams, and are cooled off by freeze rays. Routinely, students scale walls, juggle cars, and take undue advantage of their x-ray vision. In an inspired casting decision, Linda Carter (Television's long-running Wonder Woman) plays Principal Powers, the school's supreme authority. As she struts onto screen, comic book geeks in the audience rejoice.
And then comes the PE teacher, Coach Boomer (played by Evil Dead hero Ash, Bruce Campbell), who steals the show. The Sky High version of a sorting hat, he divides students on the basis of superhero ability, splitting them into Heroes and Sidekicks. Guys who can shape-shift like the Chameleon – Heroes. Guys who melt into a puddle at will -- Sidekicks. Will finally stands up and says he doesn't know his power yet, at which point the Coach drops a car on him because he's convinced the Commander's son is yanking his chain.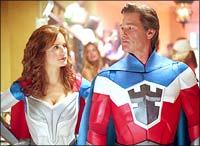 Sky High is full of precious, simple comic references. The Strongholds are sitting down to breakfast, when the phone rings. Kelly Preston runs to the phone, only to be interrupted by her husband. Honey, says Kurt Russell meaningfully, it's the 'other' one, pointing significantly to a bright red cellphone. Called on to save the world again, Preston laments the fact that she can't see off her son on his first day of high school, kisses him, and jets off -- through the study, secret wall, slide down pole, and into The Secret Sanctum.
The school nurse tells Will he's a late bloomer, and explains how superpowers show up in kids. 'The ones bitten by radioactive insects, or who fall into vats of toxic waste – their powers usually show up the next day.' Pause. 'Or else they die.'
Anyone who's ever been even remotely into comic books will recognise references to big comic legends at almost every turn. For example, there's a beautiful senior called Gwen Grayson (Mary Elizabeth Winstead), who says her father isn't active anymore – in case you're unaware, Batman's former ward Robin was called Dick Grayson, and this is a nicely doffed hat.
While in school, Lyla calls something 'unfair', at which point Will agrees, but says 'if life were to suddenly start being fair, I doubt it would happen in High School.' This is a film with inoffensive, sharply written dialogue, and surprisingly well fleshed out characters, including some with gag names like Warren Peace. There's some subversion here too, but it's nicely disguised. It's a spoof, with Linda Carter mouthing the have-to-applaud line, 'I'm not Wonder Woman, you know,' but it's also a film that can comfortably stand on it's own merits.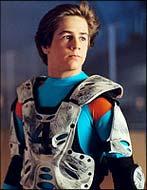 Comic book fans will read constantly between the lines, chuckling maniacally to themselves, gleeful at discovering jokes that might have appeared inadvertently. But even for the rest of the audience, it's harmless, feel-good family fun – a hark to classic Disney films, minus the brilliant music. As a film, it has flaws, sure, but you're usually too busy smiling through it and picking up on the sight gags to actually mind.
Would I call it a kiddy film? Definitely. But I'd also call it a superhero film, one refreshingly not trying to be taken seriously. Forget genre – spoof, superhero, kids, coming of age – this is simply good, solid entertainment.
Arguably 2005's most endearing film on anything to do with superheroes, Sky High's appeal seems pretty universal, and very hard to resist.
Hogwarts? What Hogwarts?
Want to see this movie? Check out Rediff Movie Tickets!