Home > Movies > Reviews

Odd couple impresses in Meri Patni...

Indrani Roy Mitra | October 07, 2005 17:39 IST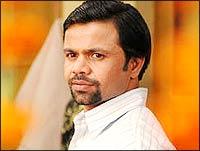 Directors make or break stars, goes the saying. Filmmaker Chandan Arora is blessed with a unique quality -- that of making stars out of non-stars. If his Main Madhuri Dixit Banna Chahti Hoon received rich critical acclaim for being simple, yet brilliant, his Main Mere Patni Aur Woh is sure to tug at most audience members' hearts for two reasons.
First, the film's lack of pretension -- It talks about a small town resident's sense of insecurity and establishes it without beating about the bush. Second, brilliant performances by two capable actors -- Rajpal Yadav (he's improving with each film, and can get into the skin of a character with effortless ease) and Rituparna Sengupta (though not a familiar face in Bollywood, she is Numero Uno in the Bengali film industry).
It is very difficult for stars, it is said, to get rid of their image. But Rituparna proves, on her Bollywood return after a long hiatus, that she is here to stay. She impresses by underplaying her role and leaving room for Rajpal to play the protagonist. The onus rests on Bollywood directors to make best use of her talent.
| | |
| --- | --- |
| | More on rediff.com ! |
| | |
The film's plot revolves around an odd couple, Mithilesh Shukla (Rajpal) and his much taller, more attractive wife, Veena (Rituparna). Like a typically average middle class man, Mithilesh does not like being towered over by Veena. In fact, he is annoyed by people being overtly attentive to Veena every day, and desperately seeks a solution from Lord Shiva, whom he pacifies with a daily dose of milk and bananas.

Mithilesh's troubled heart gets some solace as he stops doing business with the local milkman and vegetable vendor. But his peace is short-lived. His world seems threatened again with the arrival of a neighbour Akash (Kay Kay) whom Veena knows from childhood. Old friendship gets a fresh lease of life, much to Mithilesh's discomfiture.

Software expert Akash smokes cigarettes, swigs whiskey on the rocks, strums a guitar and is the centre of attention anywhere. Let alone Mithilesh, the world knows Veena was meant for Akash and vice versa. Mithilesh is helpless, rather, helplessly sad. As he and Akash get together over whiskey on the rocks, Mithilesh wonders if their marriage too will soon be on the rocks. It will be unfair to give away the rest.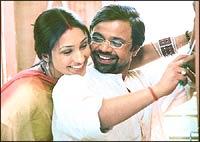 Editor-turned-director Chandan Arora is a welcome addition to the growing list of directors who put more stress on substance than stars. He spins off an interesting family drama laced with abundant humour and manages to get the maximum out of his cast. It takes courage to place Kay Kay in the role of a successful, fun-loving individual who falls in the category of 'dangerous bachelors.
Kay Kay puts in another great show (it has become quite a habit with him) in perfect obeisance to his director. A taut, yet down-to-earth, script keeps the film's interest alive till the last minute. Like Madhuri Dixit, here, too, Chandan's deft use of popular Hindi film songs to accentuate the mood of certain sequences deserves special mention.
Amid a mad rush of non-cerebral directors churning out one forgettable movie after another, Arora has taken pains to put together what you call good cinema.
Hats off!
Want to see this movie? Check out Rediff Movie Tickets!


What do you think about the story?








Read what others have to say:





Number of User Comments: 23








Sub: ** A bad copy **

I must say that this is a poor copy of the malayalam movie "Vadakkunookkiyanthram" by Mr Srinivasan, which got kerala state award. it is a ...


Posted by Manoj









Sub: review

hats off rajpal and chandan arora


Posted by mahesh









Sub: film is OK

Actor Rajpal YAdav proves that he is versatile and can handle comic as well as serious roles with ease and ritu is a beauty on ...


Posted by gaurish









Sub: about the film main meri patni aur woh

this has a good story but can't do well


Posted by shashi kant









Sub: Reminds me of malayalam film

Hi, The story line reminds me of the malayalam film 'Vadakku nokki yanthram' by Sreenivasan. That film became a classic hit in the 90s and ...


Posted by Venkatesh






Disclaimer